Urethroplasty Surgery by – Dr. Anup Ramani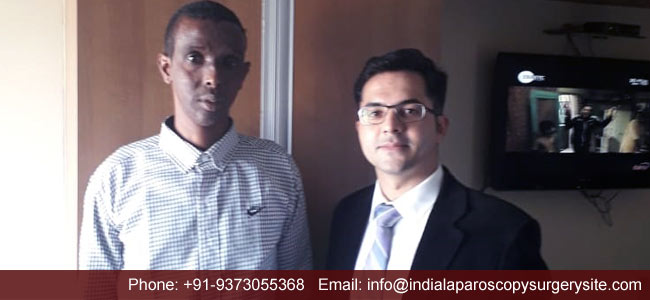 Urethroplasty is a type of surgery concerning the replacement or reconstruction of urethra. The surgery becomes important when the urethra becomes narrowed due to any sort of scar tissue and urethral stricture known as spongiofibrosis. There are mainly four types of urethroplasty surgery with an average operation time between three to eight hours:
Anastomotic Urethroplasty
Penile Island Flap
Buccal Mucosal-Onlay Graft
Johansen's Urethroplasty
The type of surgery performed purely depends on the following factors:
Physical health of the patient
Degree of the defect
Condition of the urethra not affected by the stricture
Multiple or misaligned defects
Position of the stricture
Any sort of scarring from previous surgery
Expertise and experience of the doctor performing the surgery
I am Daniel Mezikoma and I hale from Morocco. I had undergone a painful and Successful Urethroplasty Surgery in India under the constant support of India Laparoscopy Surgery Site- Group of Surgeons and Hospitals, a medical tourism company in India, that for became a blessing in disguise.
At the age of 40, I did not have any lifestyle ailments like diabetes or high blood pressure, I was fit and healthy except for the removal of a kidney stone about 6 months ago. I was relieved from the pain caused by the kidney stone after its removal and I was taking precautions so that I would not develop one again. This is why when I started feeling trouble in urinating, I at first did not understand what was happening. Then I started getting painful urinary tract infections which really upset my life.
I was quite confused because I never had such infections earlier. A simple task as passing urine became an ordeal for me. The recurring infections affected both my professional and personal life. I had thought that after removing the kidney stone, I would finally be at peace with my health. But here the opposite was happening. If a person has never had a urinary tract infection. It is difficult to understand the pain and the discomfort it causes. It feels as if you are passing blades through your urinary system because the pain is that bad. Then I started passing blood in my urine and this really scared me. Apart from this, I started getting severe abdominal pain the cause of which I could not understand.
Of course, my primary physician prescribed antibiotics and pain killers for the problem, but I was tired of taking those as well. Finally, my primary physician suggested that I see a urologist because recurrent UTI could end up damaging my kidneys if nothing was done about it. At the same time, the blood in urine along with the abdominal pain and swelling of the penis meant that something was seriously wrong with my urinary system. This scared me because I really could not understand the source of recurrent infections. My primary physician suggested a urologist and I took an appointment to meet him.
The urologist was an experienced doctor, and he asked me about my medical history. I also told him about my kidney stone removal. He immediately said that this recurrent problem of urinary tract infections and difficulty in passing urine was somehow related to the kidney stone removal. Although he was not sure, he thought that I had developed urethral strictures. I did not know what urethral stricture meant and he went on to explain it to me.
He said that often after the removal of kidney stones, the urethra becomes constricted or there may be a block in the urethra. He said that men had longer urethra compared to women, and this problem of urinary strictures was more common in men than in women. He said that I would have to undergo an ultrasound examination and a urethroscopy. These procedures would determine whether I had urethral strictures and to what extent. I had undergone a similar procedure prior to my kidney stone removal so I did not have any problem with that.
The urologist gave me an appointment and I went to his office at the decided time of the appointment. After the ultrasound and urethroscopy results were examined, the urologist said that indeed I had urethral strictures as he suspected and the area of the urethra that was affected would require a urethroplasty operation. I did not know what that meant and he went on explaining the procedure to me. He said that a part of the urethra would be removed and graft would be placed in its stead. To me, it seemed like a really complicated procedure and the urologist said that indeed it was complicated and would require a very highly skilled surgeon and it was difficult to find such a surgeon in Morocco.
I am married, and my wife was as worried about my condition as I was. When I went home and told her about what the urologist had said, she became even more worried. However, she said that we would see the best thing that could be done under the circumstances. Both of us consulted friends and relatives. My wife's friend Donna was especially close to us and she took it upon herself to conduct thorough research on the subject. My wife and I also started looking up articles, blogs and websites on the internet. Meanwhile, the pain, infections and other problems continued.
Soon one day, Donna called my wife and said that she would be coming over to our place because she had found the perfect solution for my problem. She arrived in the evening and said that the urethroplasty procedure required a very good and highly skilled surgeon. Because of the surgery went wrong, then I would end up with serious complications for the rest of my life. She said that such surgeons could be found in advanced countries like the USA, UK etc. but there the cost of the procedure was too high. However, India was one country, where you could find equally skilled, well-trained and qualified surgeons at a much lower cost.
I had never been to India and knew little about the country. Even my wife was skeptical about getting such a complicated procedure done in an unknown country. However, it was true that we could not afford the cost of surgery in other advanced countries like America or the UK. This is why we listened to Donna as she spoke. She said that nowadays medical tourism in India had become an industry in itself. In fact, even the people from advanced countries in the west were going to India for medical and surgical treatment. This is because the medical professionals in India were as highly qualified and well trained as the ones in the advanced countries, but the cost of medical treatment in these countries was exorbitant. She said that there were cases when in spite of having health insurance, people in these countries could not afford the cost of complicated surgeries in their own countries. This is the reason that they traveled to India for treatment.
When my wife and I heard this we developed an interest in the prospect of going to India for a urethroplasty operation. Donna further said that we need not worry about the medical visa, flight tickets, or even the search for a doctor to do the operation. This is because many medical tourism companies had come up in India and they would take care of everything for us. The main challenge was to look for the right medical travel agency in India. Most of the companies that we researched on the internet said the same thing. That visiting India for a medical or surgical procedure was the right thing to do and we shortlisted 3-4 of the medical tourism agencies that we would call and talk to.
Of course, the other travel agencies may have been good, but the profile of one agency – India Laparoscopy Surgery Site- Group of Surgeons and Hospitals seemed particularly attractive. Even the reviews written by people who had earlier taken their services were all positive and we felt inclined towards this agency immediately. My wife placed a call on the phone number mentioned on their website and she put the call on speaker. Donna and I waited while the phone rang and immediately the phone was answered, by a crisp, cheerful and friendly female voice. The lady immediately put us at ease with her talks and said that we had taken the right decision in getting the surgical procedure done in India.
She went on to explain how qualified and skillful doctors in India treated hundreds of people from all over the world. She went on to explain the medical tourism industry in India and said that India Laparoscopy Surgery Site Group is one of the most successful and popular agencies for medical tourism. They were one of the first few agencies who recognized this niche and started providing services to foreign nationals and now they had grown into a large organization, providing services to people from all over the world.
However, my question was what would we have a say in choosing the doctor and hospital for my procedure and she immediately said that the choice would definitely be ours. She said that in a couple of days she would send us the profiles of the doctors and we could choose the one that appealed to us the most. She said that all the doctors were well qualified and skilled but she understood that most of the time, the choice of the doctor is made with intangible feelings that strike you as the most suitable doctor for you. She said not only the doctor but also the hotel that we would stay in would be chosen by us.
She asked us who would accompany me and immediately my wife said that she would do so. The lady said that it was a good decision because the patient usually needs the moral support of near and dear ones in a surgical procedure as delicate as urethroplasty. As promised the details of the hotel, doctors and other information arrived in 2 days, and I and my wife along with Donna started an in-depth analysis of the information. All the doctors had good profiles, but the name and profile of Dr. Anup Ramani top urologist in India struck me as really good. My wife said that she too had a good feeling about this doctor. Donna said that if both of you felt this way then we should definitely opt for Dr. Ramani.
We placed a call to India Laparoscopy Surgery Site Group and the same lady answered the phone. When we told her about our choice of Dr. Anup Ramani, she said that we had chosen well, because he was a doctor with a lot of experience in urethroplasty procedures and has performed Successful Urethroplasty Surgery in India. None of the surgeries done by him had gone wrong and I would be in good hands with Dr. Ramani. She asked us to send our travel documents and the next day called to say that the medical visa and other formalities would take a month and Dr. Ramani had given a date for the surgery immediately after that. She also stated that their team in India will take care of all the travel arrangements, accommodation in India, and all other essentials like local travel and food.
BOOK FAST TRACK APPOINTMENT WITH INDIA'S TOP LAPAROSCOPIC GALLBLADDER SURGEON AND GET FREE NO-OBLIGATION QUOTE FOR MEDICAL CARE
SEND YOUR REPORTS ON EMAIL -
info@indialaparoscopysurgerysite.com
OR REACH OUT TO US ON PHONE NUMBER- +91-9373055368
My wife and I started conducting research on the internet regarding the procedure of urethroplasty and by the time it was time for us to go to India we had a thorough understanding of the procedure. Soon it was time and we boarded a flight to India. At the airport, a friendly man picked us up and took us to the hotel that we had chosen. The staff at the hotel was really professional and they were especially empathetic with us because they knew that we were in India for medical treatment. We had dinner and slept the night because in the morning we had to meet Dr. Ramani.
When we met Dr. Ramani all my fears were allayed, because he had a warm and kind personality and in fact, he asked us what we knew about urethroplasty. We told him the facts that we had gleaned from the internet and he said that we had the right information. According to my medical reports, I had to undergo anastomotic urethroplasty that was known to have the highest success rate when it came to urethroplasty surgery. The doctor there explained the entire process with a view to keep us updated about the process and the precautions to follows post-surgery. He was gentle enough to explain the post-surgical risks and complications as well. According to him, urinary incontinence, rectal injury, erectile dysfunction, and false passage are the common post-surgery risks but on the other hand, the doctor delivered an assurance that he would opt for a minimally invasive procedure and this meant that I did not have to be hospitalized after the operation. His knowledge actually helped me physically and mentally prepare myself for the surgery the next day.
The date of the operation was for the next day, and I had to spend the night at the hospital under strict surveillance. My wife went back to the hotel and the next morning I was taken to the operation theater. I was given local anesthesia and Dr. Ramani kept talking to me and explaining what he was doing. After the operation, I was taken to my room where my wife was waiting for me.
Dr. Ramani said that I could resume normal routine 3-4 weeks after the operation, and my life would become as regular as earlier. I was relieved to hear this and we thanked Dr. Ramani for his moral support more than anything else. Two days after the operation I was discharged with a strict guideline of Dos and Dont's from the doctor.
After discharge, the coordinator of Team India Laparoscopy Surgery Site who was with us at all the stage since we stepped into India, took us back to our hotel. We stayed there for about a week. In the meanwhile, all our necessities and requirements were deeply and thoughtfully taken care of. Every aspect of our stays like comfort, food, medicines, and short time outings to feel the freshness of India was also put into considerations. That was I feel the best phase of our journey in India, where we felt at home or else we would say they were more than what a home could do for us.
After a week we were again taken to Dr. Ramani for consultation and he gave the green signal to travel back to our hometown. We boarded the flight back to Morocco three days after that and reached safely. Today it has been a year from that time and I am living a completely normal and healthy life with no signs of pain or any sort of discomfort. After Successful Urethroplasty Surgery in India, my life has become smooth and pain-free, my life has become fresh and healthy, my life has become sweet to share with all the experiences from India Laparoscopy Surgery Site Group. Absolutely, this was the best option to go for and I feel blessed to have the wisdom to choose India Laparoscopy Surgery Site Group for my medical journey. Thank You, Team India Laparoscopy Surgery Site- Group of Surgeons and Hospitals!
GET THE EXTENSIVE COMPREHENSIVE CARE WITH SPECIAL ECONOMICALLY PRICED PACKAGES AT WORLD CLASS HOSPITALS IN INDIA
OURSUPPORT AND SERVICES:
E-Book Instant Appointment with your Doctor
Full assistance in Medical Visa, pick-drop, accommodation facility, etc
Highly affordable treatment cost
24/7 Full patients support service
Fast service-immediate treatment-no waiting list
Listen to the Voices of Our Happy Patients