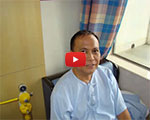 Angel - Hong Kong
I am Angel from Hong Kong. I came to India for my Laparoscopic Sleeve Surgery through India Laparoscopy Surgery Consultants.
Before contacting your company, I was not very sure that I want to get my surgery in India since I was not aware about the facilities and services in India. But, as the conversation proceeded with the executive of their team, I started developing confidence in them. After completing all the formalities, I got my surgery arranged with the best medical facilities and treatment facilities in India. Now I was very much aware of what quality treatment and services I will be receiving during my surgery in India. I am very happy to get my surgery arranged through your medical tourism company in India.
The hospital was very nice and beautiful with a wonderful view outside the window of my room. The staff of the hospital was very nice, compassionate and caring. I am very happy with the result of my surgery. I want to thank my surgeon and his staff as well as the whole team of India Laparoscopy Surgery Consultants for arranging the best medical facilities and services during my medical journey in India.