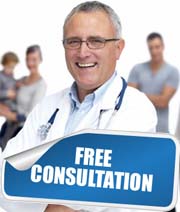 Planning your medical trip to India is a very simple process with India Laparoscopy Surgery Site
You just need to fill in our enquiry form and one of our executives will contact you soon.
+91-9373055368 Call us at the given to contact number for any assistance.
Complete information regarding Laparoscopy Nephrectomy Surgery Cost In Indiais provided on our website with Best Laparoscopic Surgeons and Top Laparoscopic Hospitals


What is Laparoscopic Nephrectomy?
Laparoscopic nephrectomy (kidney removal) is a minimally invasive technique that provides the patients with less discomfort and equivalent results when compared to the larger incision required for the conventional open surgery. Compared to the traditional open surgery, the laparoscopic nephrectomy has resulted in significantly reduced post-operative pain, a short hospital stay, early return to work and daily activities, more favourable cosmetic results and an outcome identical to the open surgery. Hence, the laparoscopic nephrectomy is a safe and effective way to remove a diseased or cancerous kidney in the patients. Get in touch with us to find answers to how much does a nephrectomy cost?
Why do I need a Laparoscopic Nephrectomy?
Patients may need a laparoscopic nephrectomy for the following reasons:
The infections may have damaged the kidney and so it requires to be removed.
The kidney may not be working or only partially working, if left in place it can be a source of infection or pain.
A cancer arising in the kidney may have been diagnosed and the usual treatment for this is to remove the kidney.
If cancer is diagnosed in the kidney, it is sometimes essential to remove the adrenal gland that lies on the top of the kidney at the same time. Some kidney cancers have a higher risk of cancer recurrence in the ureter (a tube carrying urine from the kidney to the bladder). If this have been found, then the ureter will also be removed, which means that a small incision lower down on the abdominal wall as well as the other small incisions will be made. Your doctor will discuss the reason for removing your kidney.
Approximately 4000 people in the United States donate one of their two kidneys each year to a loved one for transplantation.
The standard surgery to remove a kidney requires a flank or abdominal incision of about 8 to 20 inches in length. Additionally, in most instances a rib has to be removed to allow enough exposure. Most of these procedures may be performed by laparoscopy with similar success rates using the "key hole" incisions.
What are the advantages for a laparoscopic nephrectomy?
There are multiple advantages of a laparoscopic nephrectomy and it includes:
Smaller skin incision-about four 1cm incisions rather than a 30cm incision.
Less pain due to smaller incisions and the muscles are parted rather than cut.
Better view because of the magnification of the system.
Shorter hospital stay-about 3 to 5 days in hospitals as compared to a week or longer for the open surgery.
The ability to return to work in 2 to 4 weeks as compared to 6 or more weeks after the traditional open surgery.
Less blood loss and reduced need for a blood transfusion.
Low Cost Nephrectomy Surgery In India
There are no differences in the chance of cancer cure whether the surgery is performed by conventional open or laparoscopic method.
Best Surgeons for Laparoscopic Nephrectomy in India
The laparoscopic nephrectomy requires special skills to perform and the best surgeons in India ensure the safety and care of the patient. The decision whether you should undergo a laparoscopic surgery depends on your overall health and your medical condition. Speak to your doctor regarding the options for the laparoscopic nephrectomy in India. Today, the rapid advancements in the field of medicine and technology have enabled the physicians and doctors to perform the laparoscopic surgeries for treating different types of urological conditions.
A highly skilled and professional team of board-certified urologists are committed to providing compassionate and high quality urological care for the patients with options ranging from surgical procedures to the medical management. The Best Surgeons for Nephrectomy Surgery in India have a proven track record of exceptional service, hospital leadership and quality care at a low cost that has earned the trust of the patients and respect for our peers. Medical Qualifications of the best Surgeons in India are as follows:
List of Top Surgeons for Laparoscopic Nephrectomy in India
Dr. Sanjay Pandey
Dr. Gagan Gautam
Dr. Anant Kumar
Dr Mahendra Jain
Dr Manu Gupta
Dr. Rajiv Goel
Dr. Raja's
Dr Rupin S Shah
Dr.Lalitha's
Dr Vipin Tyagi
Dr. Dilip Raja
Dr Milind Bapat
Dr Tejanshu
Dr. Sumit Mehta
Dr Pradeep P Rao
Dr Ashish Sabharwal
Dr.Bhupendra Panchal
Dr. Neelu Desai
Dr. Amitabha Chanda
DR ADITYA GUPTA
Dr. Swaroop Gopal
DR ADITYA GUPTA-
Dr. Amitabha Chanda
Dr. Neelu Desai
Dr. Amitabha Chanda
Dr. Sudhir V. Shah
Dr. Nilesh M. Bhandari
Dr. Abhishek Srivastava
Dr. S. K. Biswas
Dr. Mohit Bhatt
Dr. M. Behari
Dr. NAMIT GUPTA
Dr. Abhaya Kumar
Dr. Rajeev Ranjan
Dr. Sai Sudarsan
Dr N R Ichaporia
Dr. Jayanti Mani
Dr Sweta Singla
Dr.Sanjay Mongia
Dr. Anandh
Dr. R.S. Jain
Dr.TejanshuShah
Dr Sudhir Khanna
Dr. Soumyan Dey
Dr. Rajesh Taneja
Dr. Parag Gupta
Dr. Shailesh Raina
Dr. Hemant R Pathak
Dr. Anup Ramani
Dr. P.J Chibber
Dr. Prakash Chandra
Dr. Jagdeesh Kulkarni
Dr Rajinder Yadav
Dr. Vinod K V
Dr Anurag Khaitan
Consult the Best Surgeon for Laparoscopic Nephrectomy in India Click Here
List of Top Hospitals for Laparoscopic Nephretcomy in India
Muljibhai Patel Urological Hospital
Samved Urology hospital
RG Stone Urology & Laparoscopy Hospital
Columbia Asia Referral Hospital
Aashray Urology Institute
NU Hospitals
BLK Super Speciality Hospital
Devasya Kidney & Multi Speciality Hospital
Columbia Asia Hospital - Whitefield
Manipal Hospitals
Fortis Hospital
RG Stone Urology & Laparoscopy Hospital
Malabar Hospitals
Fortis Hospital
Global Hospital
KMC Hospital
Fortis Malar Hospital
S. L. Raheja Hospital
Artemis Hospital
Kidney Hospital
Sunrise Hospital
Soni Manipal Hospital
Columbia Asia Hospital - Hebbal
Yashoda Hospitals
N M Virani Wockhardt Hospital
Patel Hospital
Yashfeen Hospital
Sir Ganga Ram Hospital
Columbia Asia Hospital - Palam Vihar
Saket City Hospital
Rockland Hospital
GEM Hospital
Fortis Hospital
Max Super Speciality Hospital
Jaypee Hospital
NUSI Wockhardt Hospital
Pre-operative Consultation: What to Expect?
During your initial consultation with the surgeons, your medical history and records, outside medical reports like X-ray films (MRI, CT Scan, Sonogram) will be reviewed. After briefly studying your medical reports, the surgeon will determine whether you are a candidate for this surgery. Contact us to know Nephrectomy surgery cost in India.
Consult the Best Hospital for Laparoscopic Nephrectomy in India Click Here
What to Expect Before the Procedure?
The most important preparation before the surgery is that the patient should understand what and why it's being done so that you feel confident to undergo the operation. You need to get ready for a 3-4 day hospital stay, but this may vary depending on the individual. You need to keep in mind that you will be up about 2-3 days post operation, but a period of about 4-6 weeks of recuperation is also required at home before you get back to your normal activities.
If you are a smoker, you will be asked to stop smoking a few days before you come into the hospital. A routine blood or urine test will be required with possibly a chest X-ray and a heart tracing to ensure that you are fit for undergoing this surgery. All these will be done as a part of a pre-admission clinic, before the surgery.
You will come into the hospital a day before and will be seen by the nursing and medical staff of the ward. Our anaesthetist will explain what to expect when you will be put to sleep during the surgery. You will be provided with elasticated stockings to prevent the clot formation in the veins of your legs. You will also be given a daily injection to slightly thin your blood.
On the morning of your surgery, you will change into a hospital gown and be pushed to the operation department on your bed or on a trolley. The anaesthetist will put you to sleep usually through an injection in your hand. Check out the Cost of nephrectomy by visiting our website.
What to Expect During the Procedure?
The laparoscopic nephrectomy is performed under general anesthesia. The typical length of the operation is about 3-4 hours depending upon the individual. The surgery is performed through a small (1cm) incisions made in the abdomen. A telescope and small instruments are inserted into the abdomen through these keyhole incisions. Hence, it allows the surgeons to dissect the kidney without having to place his hands into the abdomen. The blood vessels are cut and tied and then the kidney is removed through one of the cuts which is large enough to allow the kidney to be removed from your stomach.
The kidney is then placed within a plastic sack and removed intact through an extension of one of the existing incision sites.
Open Procedure Laparoscopic Procedure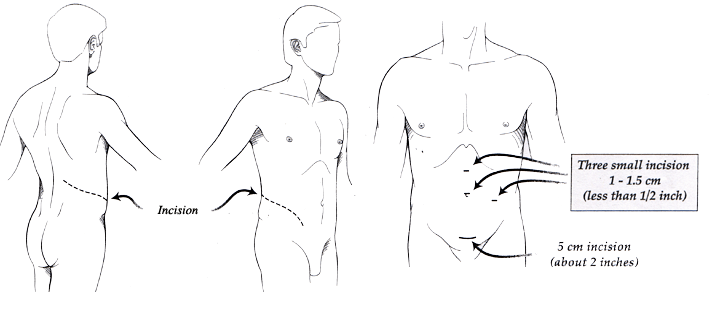 What to Expect After the Procedure?
Immediately after the surgery, you will be taken to the recovery room. Once you are fully awake and your vital signs are stable then you'll be transferred to the hospital room. The nursing staff will administer the pain medication for controlling and delivering the patient via an intravenous catheter or by an injection (pain shot). You may experience some minor transient shoulder pain related to the carbon dioxide gas used to inflate your abdomen during the laparoscopic surgery.
Some of you may experience nausea related to anesthesia. Medication will be given to treat the persistent nausea. A catheter is placed in your bladder, such that it allows the urine to drain whilst you recover from your surgery. The urine may have blood in it, but this is normal and will clear in a day or two. The catheter is removed once you are walking around in a day or two. You may also have a wound drain in your stomach that will help you to drain away any blood. This will only be removed when there is little or no fluid draining from it.
You can expect to have an intravenous catheter (IV) for 1-2 days. Most patients are able to tolerate small sips of liquids on the day of the surgery and regular food the next day. Fatigue is common and should start to subside within a few weeks following the surgery. You will be expected to do some very simple breathing exercises that help prevent the respiratory infections through incentive spirometry device. The nursing staff will explain to you about the exercises during your hospital stay.
Cost of Laparoscopic Nephrectomy in India:
India offers high quality medical treatment at quite a low price, thereby making world class treatments quite affordable for everyone.The cost of laparoscopic nephrectomy in India is lower than the same in the US and other developed nations. Find out the Laparoscopy Nephrectomy Cost In India on our website.
What do we provide?
IndiaLaparoscopySurgerySite.com are the pioneers of medical tourism in India. We put forward a cost – effective laparoscopic nephrectomy at the best hospitals of India. Our associate hospitals are JCI credited and strictly adheres to international norms of laparoscopic nephrectomy. Our associate top laparoscopic hospitals have surgical teams lead by the best laparoscopic surgeons of India. The surgeons at these Top Hospitals for Nephrectomy Surgery in India are highly skilled and hold expertise in all types of laparoscopic surgeries. Planning laparoscopic nephrectomy surgery in India with us is a simple and clutter free process. IndiaLaparoscopySurgeryite.com offers you;
A transparency in planning your medical visit to India.
Best surgical options available in India those are cost-effective too!
Complete value to your hard earned money.
One on one assistance throughout your visit.
Comprehensive foreign language assistance when required.
Personalized care by our dedicated hospitality staff.
Complete assistance in planning your visit, including travel, hospital stay, appointments with doctors.
If you are seeking for the Affordable Laparoscopic Nephrectomy Surgery In India, kindly fill up the form for a free consultation with our surgeons. You will be provided with thorough analysis and suggestions regarding Low Cost Laparoscopic Nephrectomy Surgery In India with Best Laparoscopic Surgeons and Top Laparoscopic Hospitals around.