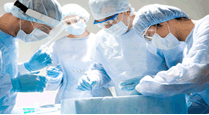 The Apollo Hospitals Group is today recognized as the "Architect of Healthcare" in India. Its history of accomplishments, with its unique ability of resource management and able deployment of technology and knowledge to the service of mankind, justifies its recognition in India and abroad. Their mission is \"to bring healthcare of international standards within the reach of every individual. We are committed to the achievement and maintenance of excellence in education, research and healthcare for the benefit of humanity.
Apollo\'s capabilities have received international acclaim resulting in the replication of its Indian models at international locations. Apollo group is also in talks with private healthcare groups and government authorities in Nigeria, South Africa, Tanzania, Mauritius, Yemen, Muscat, Bahrain, Vietnam, Malaysia, Thailand and other neighboring countries to establish its presence.
World Class Clinical Efficiencies
Among the few providers of quaternary care for complicated medical conditions, Apollo saves millions of lives everyday

Touched the lives of over 10 million patients till date.

Over 4,00,000 Preventive Health checks done.

Has the largest and the most sophisticated sleep laboratories in the World.

Has pioneered orthopedic procedures like Total Hip and knee replacements, the Illizarov procedure, and the Birmingham Hip Resurfacing technique.

Has performed over 750,000 major surgeries and over 10,00,000 minor surgical procedures till date.

Has performed over 49,000 cardiac surgeries at a 98.5% success rate.

Has performed over 2,00,000 angiograms, 16,200 angoplasties (PTCA) and 3,500 mitral balloon valvuoplasities.

First heart transplant patient is alive, 7 years after the operation.

Has performed over 9,400 renal transplants.

130 Bone Marrow Transplants performed at high success rates.

Over 30 Liver transplants done (Live and cadaver)

Has over 4,000 specialists and super specialists, 3,000 medical officers spanning 53 clinical departments in patient care.
International Affiliations
Apollo Hospitals is recognized as a training centre by the National Board of Examination in India for post-graduate training in 16 medical departments.

The Department of Radiology at Apollo is recognized by the Royal College of Radiologists, United Kingdom for training for fellowship examinations like FRCR.

Recognized as a centre for conducting research work leading to Ph.D. of the Anna University, Chennai, in medical physics and digital signal processing.

Apollo Hospitals is recognized by the Royal College of Physicians and Surgeons in Edinburgh for training postgraduates in radiology, surgery and trauma care.

Apollo Hospitals is the only International training organization for the American Heart Association Technical support from Texas Heart institute and Minneapolis Heart Institute for Cardiology and Cardio Thoracic surgery.

Apollo Hospitals has exchange programs with the Hospitals in the US and Europe.

Apollo Hospitals have an association with Mayo Clinic & Cleveland Heart Institute,USA.

Apollo Hospitals is also associated with Johns Hopkins University. Indraprastha Apollo Hospitals, New Delhi
Indraprastha Apollo Hospital, New Delhi has become the first Indian Hospital to be cleared for accreditation by the Joint Commission International (JCI), which is the gold standard for US and European Hospitals. Indraprastha Apollo is the largest corporate hospital outside the United States. It is the third super specialty tertiary care hospital set by the Apollo Hospitals Group, jointly with the Government of New Delhi, India\'s capital. It is a 695 bedded hospital, with the provision for expansion to 1000 beds in future
The hospital is at the forefront of medical technology and expertise. It provides a complete range of latest diagnostic, medical and surgical facilities for the care of its patients.
The hospital started functioning from July 1996.
Some of the specialties handled by Apollo Hospital, New Delhi are as follows:
Anesthesiology

Apollo Cancer Institutes

Medical Oncology -Pediatric Oncology -Radiation Oncology -Surgical Oncology

Apollo Cardiac Centre

Cardiothoracic & Vascular Surgery -Electrophysiology -Interventional Cardiology -Non-invasive Cardiology

Laboratory Science

-Biochemistry -Clinical Pathology -Histopathology -Hematology -Microbiology -Immunology & Molecular Biology

Critical Care

Dermatology

Dietetics and Nutrition

E.N.T.

Emergency and Trauma Centre

Endocrinology

Fetal Medicine

Gastroenterology

Gynaecology & Obstetrics

Holistic Medicine & Acupuncture

Hyperbaric Oxygen Therapy

Internal Medicine

Interventional Radiology

IVF

Multi Organ Transplantation

Apollo Neuroscience Centre

-Bio Feedback -Neurology -Neurophysiology -Neurosurgery

Nuclear Medicine

Nephrology

Ophthalmology

Orthopedics

Apollo Centre for Advanced Pediatrics

-Child Psychology -Neonatology -Pediatric Gastroenterology -Pediatric Hematology -Pediatric Surgery -Pediatric Orthopedics -Adolescent Medicine

Palliative Medicine

Physiotherapy & Rehabilitation

Psychiatry and Psychology

Radiology

-Interventional Radiology

Respiratory & Sleep Medicine

Rheumatology

Transfusion Medicine

Urology & Andrology

The Neuro-rehabilitation Unit

Apollo Surgical Science Centre

-Dental Surgery -Cardiothoracic Surgery -Neurosurgery -Vascular Surgery -Joint Surgery -Plastic & Cosmetic Surgery -General Surgery