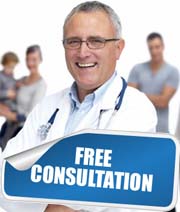 Planning your medical trip to India is a very simple process with India Laparoscopy Surgery Site
You just need to fill in our enquiry form and one of our executives will contact you soon.
+91-9373055368 Call us at the given to contact number for any assistance.
Complete information regarding Paediatric Laparoscopy Surgery Cost In Indiais provided on our website having best surgeons and top hospitals around


What is Paediatric Laparoscopy?
Paediatric laparoscopy is the art of performing the minimally invasive surgery in children ranging from the newborn to adolescent age group. This involves performing the basic procedures like diagnostic laparoscopy, undescended testis and other diaphragmatic hernia in the newborn to pull through for anorectal malformation and the hirschsprung's disease.
History of Paediatric Laparoscopy:
The first case of laparoscopy in paediatric surgery was reported by Stephen Gans in 1971. The availability of the smaller instruments expanded the role and applications of laparoscopy and thoracoscopy in very small infants and newborns. Initially, the application of laparoscopy in children was for diagnostic purposes.
Gans first case was the successful verification of a hernia on the opposite side of an endoscope introduced through the hernia sac. In this series, he included, a 2kg one day old baby with ascities. The weight of a paediatric patient ranges from a few pounds in a newborn to over 200 pounds in an adolescent.
The paediatric surgery is the last truly general surgical specialty which is unique because of the variability in the patient's size and anatomical and physiological characteristics. The weight of a paediatric surgical patient ranges from a few pounds in a newborn to over 200 pounds in an adolescent.
Paediatric laparoscopic surgeons in India operate on a variety of anatomical areas including the chest, abdomen, the head and neck and the extremities. The laparoscopic paediatric surgeons perform procedures in newborn babies to correct the congenital anomalies like esophageal atresia, diaphragmatic hernia, duodenal atresia and many others. At the extreme cases, the bariatric procedures are performed in morbidly obese adolescents. Paediatric surgeons are well acquainted with the state of the art technology like the use of single incision surgery, robotic surgery in newborns and infants, minilaparoscopy and single port laparoscopic surgery.
Often, an increasingly sophisticated and informed patient requests the laparoscopy over traditional open procedures. The parents select the Best Surgeons for Paediatric Surgery in India based on their laparoscopic skills.
Advantages of Paediatric Laparoscopy:
Smaller incisions
Greater surgical precision
Less postoperative pain
Decreased risk of infection
Decreased cost of care
Better clinical information
Reduced length of stay in the hospital
Shorter recovery
Improved cosmesis
Best Surgeons for Paediatric Laparoscopy in India
The best surgeons for paediatric laparoscopy in India has the resources and experience to perform surgery on the infants, children and teenagers at low costs. The expert surgical team uses laparoscopy, a minimally invasive surgical technique for the infants born with a defect or an abnormality. Since the laparoscopic surgery in children is not new, the Top pediatric surgeon in India are considered amongst the pioneers of the laparoscopy surgery. More recently, the best surgeons for paediatric laparoscopy has been accepted well due to their increased experience in the paediatric laparoscopic procedures, advancement in the miniaturized instrumentation and the place of laparoscopy in the modern paediatric surgery. Get complete assistance in planning the surgery from the Best pediatric doctor in India on our website.
Get complete assistance in planning the surgery from the Best pediatric doctor in India on our website.
List of Top Surgeons for Paediatric Laparoscopy in India
Dr. Rakesh Rajput
Dr. (Prof.) Anil Arora
Dr. Raju Vaishya
Dr Niraj Vora
Dr Akhilesh Rathi
Dr. Harinder Batth
Dr.kumar's Ortho Clinic
Dr. Dinshaw Pardiwala
Dr Niraj Vora
Dr. Atul R Bhaskar
Dr. Shreedhar Archik
Dr. Sanjay Agarwala
Dr. N. S. Laud
Dr. Kunal
Dr Anant Joshi
Dr. Sanjay Desai
Dr Sudhir Joshi
Dr. Pradumna S Mamtora
Dr. Sudhir Warrier
Dr. Yajuvendra Gawai
Dr. Shreyash M. Gajjar
Dr. C. P. Manwani
Dr. Milind Chaudhary
Dr Mahesh Maheshwari
Dr Dilip Nadkarni
Dr. Urkesh Shah
Dr. Pranjal Kodkani
Dr. Alok Pandey
Dr. Ameet Pispati
Dr. Suresh Shetty
Dr. D.D. Tanna
Dr Nirad S Vengsarkar
Dr. Abhay D. Narvekar
Dr. Rujuta Mehta
Dr Arvind G Kulkarni
Dr. Milind Patil
DR.Shashi's
DR VELS
DR B CHOKKALINGAM
Dr.kumar's
Dr S Premkumar
Dr Balaji Srinivasan
Dr Arun Kannan
Dr KUMARS
Dr. Mayil
Dr. Bones
Dr R Gopalakrishnan
Dr. Shanmuga Sundaram
Dr Parthasarathy
Dr S Rajagopal
Dr. Paul
Dr.Kanna's
Dr. Divya
Dr. Sanjeev Jain
Top Hospitals for Paediatric Laparoscopy in India
The top hospitals for paediatric laparoscopy in India have the following features:
Unique Expertise: Our high volume and the wide range of laparoscopic surgeries performed at low costs that has set us apart from other facilities over the globe.
Collaborative Care: We work with the specialists across various departments to ensure that your baby receives the most comprehensive and expert care. We constantly consult and associate with each other by combining each member's expertise to provide the best recommendations for your baby's care and health at low costs.
Full Spectrum of Care: The Top Hospitals for Paediatric Surgery in India work with the families during pregnancy to diagnose the abnormalities and set up a care plan after the baby is born. Our team of expert paediatric specialists are ready and prepared to provide the necessary services for the baby.
Protecting Your Baby's Growth: We are committed to the laparoscopic procedures in babies with more than just a small scar. The minimally invasive surgeries provide your child with the best chance for the optimal results and the long-term health at low cost.
Fortis Healthcare Hospital Chennai, Apollo Hospitals Kolkata, Medanta Medcity Hospital Delhi, Global Hospital Hyderabad & Mumbai offer the best medical care and services for paediatric laparoscopy in India.
List of Best Hospitals for Paediatric Laparoscopy in India
A G Padmavathis Hospital
A-One Hospital
Aadhar Hospital
MIOT International
Star Hospitals
Manipal Super Specialty Hospital
Medanta - The Medicity
Medica Superspecialty Hospital
Apollo Hospitals
Fortis Healthcare
BLK Super Specialty Hospital
Lilavati Hospital & Research Centre
Bombay Hospital and Medical Research Centre
Saifee Hospital
SevenHills Hospital
Global Hospitals
Jaslok Hospital
Breach Candy Hospital
Sarvodaya Hospital
RK Hospital
Parulekar Hospital
Tosh Hospitals
Parvathy Hospital
Pallava Hospital
Hosmat Hospital
Sparsh Hospital
List of Paediatric Conditions and Operations for Which Minimally Invasive Methods Are Used
Appendectomy
Bronchogenic cyst
Cholecystectomy
Choledochal cyst
Colectomy/j pouch
Congenital adenomatoid malformation
Colonic stricture
Congenital diaphragmatic hernia repair
Duodenal atresia
Diaphragmatic placation
Esophageal duplication cyst resection
Empyema
Gastrostomy
Gastric duplication cyst resection
Imperforate anus repair
Heller myotomy (achalasia)
Intussusception resection
Inguinal hernia repair
Ladd's
Kasai
Meckel's
Lung biopsy
Mesenteric Cyst
Nissen, Thal, Toupet, Dor fundoplasty
Nephrectomy
Oncology: diagnosis and resection
Pancreatectomy
Ovarian pathology
Perforated ulcer repair
Pyloromyotomy
Pull-through for Hirschsprung disease
Splenectomy
Sequestration
Thymectomy
Spontaneous pneumothorax
Trauma exploration
Tracheo-esophageal fistula
Cost of Paediatric Laparoscopy in India:
The top multispecialty hospitals in India offers the best paediatric laparoscopy procedures at very low price compared to the cost of the same in the US and the UK. Find out the Paediatric Laparoscopy operation cost in India from the best child specialist in India by sending your query on our website.
What do we provide
IndiaLaparoscopySurgerySite.com are the pioneers of medical tourism in India. We put forward a cost - effective paediatric laparoscopy at the best hospitals of India. Our associate hospitals are JCI credited and strictly adheres to international norms of paediatric laparoscopy. Our associate top laparoscopic hospitals have surgical teams lead by the best laparoscopic surgeons of India. The surgeons at these hospitals are highly skilled and hold expertise in all types of laparoscopic surgeries. Planning paediatric laparoscopy surgery in India with us is a simple and clutter free process. Contact us to get appointment with the Top Child specialist in Delhi at the Best child hospital in Delhi. IndiaLaparoscopySurgeryite.com offers you;
A transparency in planning your medical visit to India.
Best surgical options available in India those are cost-effective too!
Complete value to your hard earned money.
One on one assistance throughout your visit.
Comprehensive foreign language assistance when required.
Personalized care by our dedicated hospitality staff.
Complete assistance in planning your visit, including travel, hospital stay, appointments with doctors.
If you are seeking for the Affordable Paediatric Laparoscopy Surgery In India, kindly fill up the form for a free consultation with our surgeons. You will be provided with thorough analysis and suggestions regarding Low Cost Paediatric Laparoscopy Surgery in India with best surgeons and top hospitals around.