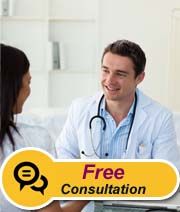 Planning your medical trip to India is a very simple process with India Laparoscopy Surgery Site
You just need to fill in our enquiry form and one of our executives will contact you soon.
+91-9373055368Call us at the given to contact number for any assistance.
Complete information regarding Laparoscopy Pyeloplasty Cost In India is provided on our website with Best Laparoscopic Surgeons and Top Laparoscopic Hospitals


What you need to know about Laparoscopic Pyeloplasty?
The laparoscopic pyeloplasty is a minimally invasive laparoscopic procedure that relieves the obstruction between the ureter and the kidney at the Ureteropelvic junction (UPJ). It is a safe and effective way to relieve the obstruction in the upper part (renal pelvis) of the ureter.
This procedure is used to correct a blockage or the narrowing of the ureter where it leaves the kidney and this abnormality is called as UPJ obstruction that results in poor and sluggish drainage of the urine from the kidney. This obstruction can potentially cause stones, abdominal and flank pain, infection, deterioration of kidney function and high blood pressure.
Compared to the conventional open surgical technique, the laparoscopic pyeloplasty has resulted in significantly reduced post-operative pain, shorter hospital stay, earlier return to work and daily activities and more favourable cosmetic results and outcomes that is similar to that of the open procedure. Know more about the Pyeloplasty surgery for adults and Pyeloplasty surgery cost on our website.
Who is an ideal candidate for laparoscopic pyeloplasty?
If you have an obstruction of the Ureteropelvic junction (UPJ) that can be caused by fibrous scarring due to stone or previous operation, horseshoe kidney, or if you have blood vessel which may cause your Ureteropelvic junction (UPJ) to kink or if you have a stone that gets impacted in the upper part of the ureter, then you are an ideal candidate for a laparoscopic pyeloplasty.
What are the advantages of a pyeloplasty performed laparoscopically?
There are multiple advantages that include:
Better view because of the magnification of the system.
Smaller skin incision-about four 1cm incisions rather than a 30cm incision.
Less pain due to smaller incisions and the muscles are parted rather than cut.
Less blood loss and reduced need for a blood transfusion.
2 to 4 days in the hospital as compared to a week or longer stay required after open surgery.
The ability to return to work in about 2 to 4 weeks as compared to 6 or more weeks post the traditional open surgery.
Best Surgeons for Laparoscopic Pyeloplasty in India
The best surgeons in India offer quality treatments that help to restore hope and improve your quality of life at low costs. They offer a wide range of cutting-edge treatment options-both surgical and non-surgical. Best Surgeons for Pyeloplasty Surgery in India strive to deliver the highest quality of care in a comfortable, caring and supportive ambience. The Medical Qualifications of the best Surgeons in India are as follows:
MS in General Surgery
MCH in Urology Surgery
DNB/FRCS/MRCS from the International Colleges and Hospitals
International Fellowship and Training Programs
Publications and Paper Presentations in Reputed Scientific and Medical Journals
Web Clinical Experience
List of Top Surgeons for Laparoscopic Pyeloplasty in India
Dr. Sanjay Pandey
Dr. Gagan Gautam
Dr. Anant Kumar
Dr Mahendra Jain
Dr Manu Gupta
Dr. Rajiv Goel
Dr. Raja's
Dr Rupin S Shah
Dr.Lalitha's
Dr Vipin Tyagi
Dr. Dilip Raja
Dr Milind Bapat
Dr Tejanshu
Dr. Sumit Mehta
Dr Pradeep P Rao
Dr Ashish Sabharwal
Dr.Bhupendra Panchal
Dr. Neelu Desai
Dr. Amitabha Chanda
DR ADITYA GUPTA
Dr. Swaroop Gopal
DR ADITYA GUPTA-
Dr. Amitabha Chanda
Dr. Neelu Desai
Dr. Amitabha Chanda
Dr. Sudhir V. Shah
Dr. Nilesh M. Bhandari
Dr. Abhishek Srivastava
Dr. S. K. Biswas
Dr. Mohit Bhatt
Dr. M. Behari
DR NAMIT GUPTA
Dr. Abhaya Kumar
Dr. Rajeev Ranjan
Dr. Sai Sudarsan
Dr N R Ichaporia
Dr. Jayanti Mani
Dr Sweta Singla
Dr.Sanjay Mongia
Dr. Anandh
Dr. R.S. Jain
Dr.TejanshuShah
Dr Sudhir Khanna
Dr. Soumyan Dey
Dr. Rajesh Taneja
Dr. Parag Gupta
Dr. Shailesh Raina
Dr. Hemant R Pathak
Dr. Anup Ramani
Dr. P.J Chibber
Dr. Prakash Chandra
Dr. Jagdeesh Kulkarni
Dr Rajinder Yadav
Dr. Vinod K V
Dr Anurag Khaitan
Contact the Best Surgeon for Laparoscopic Pyeloplasty in India Click Here
Top Hospitals for Laparoscopic Pyeloplasty in India
The Top Hospitals for Pyeloplasty Surgery in India offer a comprehensive range of surgery and care by providing outpatient clinic consultation, evaluation and diagnostics at quite low costs compared to that of the first world countries. The laparoscopic department at the top hospitals in India are dedicated to providing the state-of-the-art medical and surgical care in laboratory, radiology, surgery rooms and nursing care. The top hospitals for the laparoscopic pyeloplasty surgery follows a comprehensive approach to diagnose and treat the kidney stone disease that too at low costs. The top urology hospitals in India have the best infrastructure, highly skilled and qualified doctors, the best possible medical facilities that are accompanied with the lower charges in India as compared to other developed countries.
Apollo Hospital Delhi, Kolkata India, Artemis Hospital Delhi, Fortis Healthcare Hospital Hyderabad, Chennai , Gurgaon are best hospitals that offers laparoscopic pyeloplasty at low price.
List of Best Hospitals for Laparoscopic Pyeloplasty in India
Muljibhai Patel Urological Hospital
Samved Urology hospital
RG Stone Urology & Laparoscopy Hospital
Columbia Asia Referral Hospital
Aashray Urology Institute
NU Hospitals
BLK Super Speciality Hospital
Devasya Kidney & Multi Speciality Hospital
Columbia Asia Hospital - Whitefield
Manipal Hospitals
Fortis Hospital
RG Stone Urology & Laparoscopy Hospital
Malabar Hospitals
Fortis Hospital
Global Hospital
KMC Hospital
Fortis Malar Hospital
S. L. Raheja Hospital
Artemis Hospital
Kidney Hospital
Sunrise Hospital
Soni Manipal Hospital
Columbia Asia Hospital - Hebbal
Yashoda Hospitals
N M Virani Wockhardt Hospital
Patel Hospital
Yashfeen Hospital
Sir Ganga Ram Hospital
Columbia Asia Hospital - Palam Vihar
Saket City Hospital
Rockland Hospital
GEM Hospital
Fortis Hospital
Max Super Speciality Hospital
Jaypee Hospital
NUSI Wockhardt Hospital
Contact the Top Hospital for Laparoscopic Pyeloplasty in India Click Here
What to Expect Before the Procedure?
Prior to the procedure, you may be required to undergo a physical exam. The doctor may also require the blood and urine tests. The bowels are required to be cleaned. Your diet will be limited to clear liquids the night before the surgery. Do not eat or drink in the morning of the surgery. You should talk with your doctor about the medications. You may be asked to stop taking some medicines up to one week before the surgery.
What to Expect During the Surgery?
Open Procedure Laparoscopic Procedure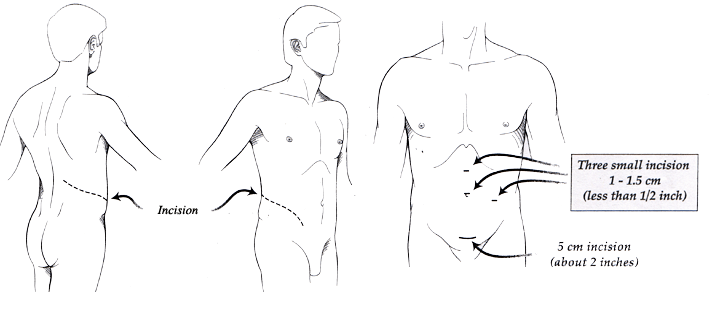 Ureteropelvic Junction (UPJ) Obstruction
The laparoscopic pyeloplasty is performed under general anesthesia. The typical length of the operation is about 3-4 hours. The surgery is performed through three small 1cm incisions that are made in the abdomen. A telescope and small instruments are inserted into the abdomen through these keyhole incisions, thereby allowing the surgeon to repair the blockages or narrowing without having to place his hands into the abdomen.
A small plastic tube called as a ureter stent is left inside the ureter at the end of the procedure to bridge the pyeloplasty repair and help drain the kidney. This stent will remain in place for about 4 weeks and is usually removed in the doctor's office. A small drain will also be left exiting the flank to drain away any fluid around the kidney and pyeloplasty repair.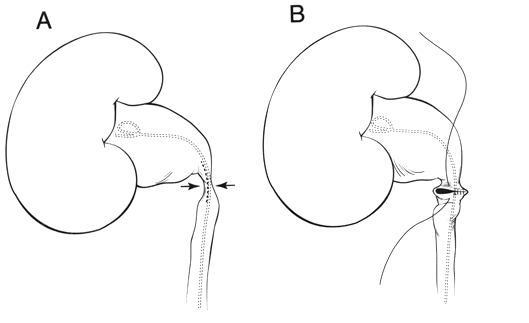 Laparoscopic dismembered pyeloplasty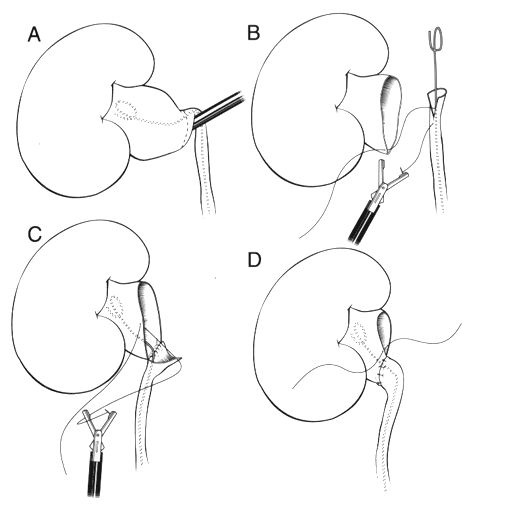 What to Expect After the Procedure?
Following the laparoscopic pyeloplasty, you'll be spending the next few hours in the recovery room where your vital signs will be monitored and you will be under observation for any immediate post-operative complications. You will be given pain medications and antibiotics and will be required to stay in the hospital for about 2-3 days post surgery. The stent will be removed about 4-6 weeks after the procedure. You will be instructed to move around so as to avoid getting constipated. You will be asked to perform some very simple breathing exercises to help prevent any respiratory infections. You should avoid performing strenuous activities like jogging, lifting something heavy, treadmill or playing sports for at least 2 weeks post surgery. You will be able to perform all your routine daily activities in about 2-4 weeks after the surgery.
What is the Cost of Laparoscopic Pyeloplasty in India?
The cost laparoscopic pyeloplasty in India is quite low compared to the same procedure at first world countries. The procedure is done by highly experienced and trained surgeons who ensure to offer superior quality treatment that are at par with the international standards. Check out the Laparoscopic pyeloplasty cost in India on our website.
What do we provide?
IndiaLaparoscopySurgerySite.com are the pioneers of medical tourism in India. We put forward a cost –effective laparoscopic pyeloplasty at the best hospitals of India. Our associate hospitals are JCI credited and strictly adheres to international norms of laparoscopic pyeloplasty. Our associate top laparoscopic hospitals have surgical teams lead by the best laparoscopic surgeons of India. The surgeons at these hospitals are highly skilled and hold expertise in all types of laparoscopic surgeries. Planning affordable laparoscopic pyeloplasty in India with us is a simple and clutter free process. Get in touch with us to know the Cost of pyeloplasty surgery in India and the Best laparoscopic surgeon in Delhi. IndiaLaparoscopySurgeryite.com offers you;
If you are seeking for the Affordable Laparoscopic Pyeloplasty Surgery In India, kindly fill up the form for a free consultation with our surgeons. You will be provided with thorough analysis and suggestions regarding Low Cost Pyeloplasty Surgery In India having Best Laparoscopic Surgeons Top Laparoscopic Hospitals around