Mrs. Sandra Campbell from New Zealand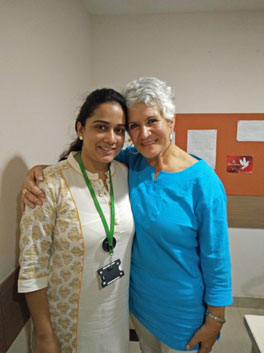 A person is called brave when he battles in contradiction of any disease. One has to be optimistic and determined when you get treated for your better health.India Laparoscopy Surgery Site truly helps their clients to fight their diseases and begin a hale and hearty life. They have helped Mrs. Sandra Campbell with a prosperous Laparoscopic Hysterectomy Surgery. She was glad to initiate another innings of her life and appreciated India Laparoscopy Surgery Site. Mrs. Sandra Campbell, 53 from New Zealand was a little disturbed because of the issue in her uterus. The prolonged and excessive bleeding had cluttered her and provoked many questions in her mind. She was at her stage of menopause and suffered severe pain.
She had a checkup to find out what was an exact issue. She visited a neighboring hospital and had some tests done. The reports suggested the thickening of her uterus (Adenomyosis). That had to be operated at an early basis.But again the question raised in her mind was to get better treatment by an expertise doctor. She had to inquire to get more information about her disease and the best place to visit for its treatment.
Then one of her relatives told her about India Laparoscopy Surgery Site who have helped excessively many patients to get a healthier life who encountered serious diseases.Mrs. Sandra communicated to Healthcare through emails. They asked her to send all the related documents so that they could consult a doctor regarding her problem.Mrs. Sandra shared all the reports. Everything was in written that made her trust them more. Healthcare assigned an assistant who looked after case passionately. He had consulted a doctor in India and arranged an appointment with her.
The assistant also organized a stress-free trip to India for Mrs. Sandra. Her air tickets were booked and the reservation of a hotel was done on prior basis. She was provided with a car which made it easy for her to commute from hotel to hospital and vice versaShe visited her doctor and had a conversation regarding her symptoms, disease and the previous reports. The doctor advised her to undergo few tests for her reference.
The physical examination she underwent were-
Computerized Tomography (CT) Scan
X-ray
Magnetic Resonance Imaging (MRI)
Ultrasound
Blood tests
Urinalysis
Electrocardiogram (EKG or ECG)
The doctor went through the reports and with its reference; she changed the medications that Mrs. Sandra was following. The pre-operative treatment was started and the doctor gave a date for the surgery.Mrs. Sandra was looking forward to getting healthy again and living a pain-free life. However, deep inside, she was anxious about her surgery. With continuous prayers, she passed the days before the surgery. The staff on duty at that time was highly concerned towards the patients. They gave her emotional support and assurance of getting better soon.
The day had appeared when she was going to get operated. With full of optimistic vibes, she entered the operation theatre. Fortunately, her surgery went well. Everything had fallen into place and cheerfully the doctor declared about her successful surgery.Soon they began with the post-operative treatment and she was guided with the safety measures she would have to take for a particular time.
Mrs. Sandra was gratified with the hospitality and the commendable work done by India Laparoscopy Surgery Site Healthcare.
BOOK FAST TRACK APPOINTMENT WITH INDIA'S TOP LAPAROSCOPIC GALLBLADDER SURGEON AND GET FREE NO-OBLIGATION QUOTE FOR MEDICAL CARE
SEND YOUR REPORTS ON EMAIL -
info@indialaparoscopysurgerysite.com
OR REACH OUT TO US ON PHONE NUMBER- +91-9373055368
Listen to the Voices of Our Happy Patients