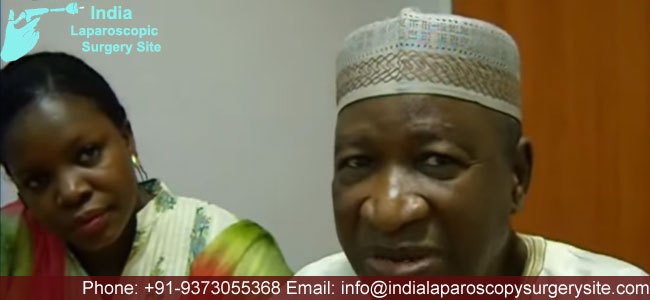 Patient Name: Mr. Zaria Suleiman Umar
Patient From: Nigeria
Condition Suffering From: Renal Failure/Kidney Failure
Treatment/Procedure: Kidney Transplant
Doctor/Surgeon: Dr. Manju Aggarwal - Nephrologist
Hospital: Indraprastha Apollo Hospital, New Delhi
---
Mr. Zaria is a Nigerian national, who was undergoing critical symptoms because of Kidney problems. He was admitted to two different hospitals there, but his condition did not improve much. He was very disappointed and had to go through a lot of suffering. Being on Dialysis was another issue that he wanted to get rid of, but Nigeria being a very underdeveloped nation; particularly in terms of healthcare, Mr. Zaria did not have much hope of getting the needed treatment. His condition was such that he needed the right cure at the earliest. At this time, one of his friends suggested that if there was one country when Mr. Zaria could find the right cure at the right time that would be India.
So, without wasting any more time, Mr. Zaria's family enquired and found out about all the necessary arrangements. Once everything was finalized, the patient was brought to Indraprastha Apollo Hospital in Delhi, India. This state-of-the-art hospital in Delhi is renowned not only in India but patients from all across the globe flock to this hospital for a wide array of treatment. So, when Mr. Zaria arrived here he was very impressed with the advanced infrastructure, the hospitality and the attention that is given to patients.
At Apollo, he met Dr. Manju Aggarwal, who is an immensely qualified Nephrologist or Kidney Specialist with more than 40 years of experience. She has been handling patients with critical Kidney conditions like Acute and Chronic Kidney Failure, Dialysis patients as well as high risk Kidney Transplants. According to the patient, his meeting with this doctor turned out to be very positive as he found her very knowledgeable and confident. He says that she studied his earlier health reports in detail and asked him a lot of questions. Then Dr. Aggarwal explained to him that a Kidney Transplantprocedure would be the best for him. She suggested some tests before initiating the treatment.
Thankfully, there were no complications faced by the patient during the course of treatment – be it the surgery or post-surgery. For Mr. Zaria, the treatment journey has been very comfortable, and it was dealt with by Dr. Aggarwal very adeptly. He responded very well to the treatment and he has been feeling much better. Today he is totally fit and does not require to go through Dialysis any more. He flew back home with a fresh lease of life and is thankful to Dr. Aggarwal for this.
Thank you ,
GET THE EXTENSIVE COMPREHENSIVE CARE WITH SPECIAL ECONOMICALLY PRICED PACKAGES AT WORLD CLASS HOSPITALS IN INDIA
SEND YOUR REPORTS ON EMAIL -
info@indialaparoscopysurgerysite.com
OR REACH OUT TO US ON PHONE NUMBER- +91-9373055368