Apollo Hospitals has successfully treated over 60000 foreign patients from across the world in last five years and the numbers are looking up every year. NHS, UK alone has over a million patients waiting to be treated.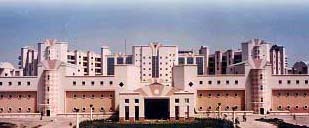 Thousands of uninsured American now have the option to come to Apollo Hospitals for tertiary care needs. Similarly Africa, Middle East, CIS Countries in Central Asia and South East Asia present huge opportunities.
At Apollo Hospitals we strongly believe that India will find its rightful place as the Global Healthcare Destination of the world. We are constantly striving to enhance our infrastructure and facilities to offer our patients, the assurance of a world-class healthcare system that emphasizes safety and pushes the boundaries of excellence.

Indraprastha Apollo Hospital, New Delhi has been accredited by Joint Commission International (JCI) USA, as the first Internationally Accredited Hospital in India. An accredited hospital assures the best practices in a safe environment and that the patient is in "safe" hands. JCI accreditation is the Gold Standard for US and European hospitals as it reflects provision of the highest levels of patient care and patient safety.
International Patient Facilities
Apollo Hospital's International Marketing provides a wide range of services to the international patients and their family members, ensuring them of a pleasant and comfortable experience throughout their stay. Our services include :
| | |
| --- | --- |
| | Airport Pick up & drop |
| | Travel arrangements (Local transportation and sight seeing) |
| | Translators |
| | Coordinating all appointments |
| | Arranging accommodation for patients and attendants (Hotels/Guest Houses for Attendants) |
| | Visa and Foreign Exchange assistance |
| | Cuisine to suit your palate |
| | Locker Facility for all Valuables |
| | |
Apollo Hospitals Group is at the Forefront of Medical Tourism
To make India the Global Healthcare Destination
"Our mission is to bring healthcare of international standards within the reach of every individual. We are committed to the achievement and maintenance of excellence in education, research and healthcare for the benefit of humanity."
Dr. Prathap C Reddy, Founder & Chairman, Apollo Hospitals Group.
The Indian healthcare market is Rs. 15 billion and growing at over 30 % every year. Indian private hospitals are increasingly finding a mention in the travel itineraries of foreigners, with the trend of medical tourism catching up in the country. If industry estimates are to be believed, the size of the medical tourism industry stands at Rs 1,200 - Rs 1,500 crore (Rs. 12-15 billion).

A recent CII-McKinsey study on Indian healthcare says medical tourism alone can contribute Rs 5,000- Rs 10,000 crore (Rs. 50-100 billion) additional revenue for tertiary hospitals by 2012, and will account for 3-5 % of the total healthcare delivery market. Compared to countries like the UK or the US, procedures like heart bypass surgery or angioplasty come at a fraction of the cost in India, even though the quality of doctors and medical equipment is comparable to the best in the world.

A heart bypass surgery in India costs USD 6,500, while in the US it costs between USD 30,000 and USD 80,000. This is a huge, untapped market, not just for therapeutic medical tourism like ayurveda, but also for curative treatment. Most of the Apollo Hospitals Doctors are trained or specialized in UK, USA, Australia etc. and compare with the best in the world, in their chosen specialities.

India can lead the world in medical and health tourism since we have a tremendous advantage with a large pool of skilled manpower and technological edge. One million health tourists per annum could contribute up to US$ 5 billion of tourism revenue to the Indian economy.

Led by Apollo Hospitals Group, Indian Healthcare today has developed International delivery capabilities and has demonstrated International excellence in all specialties with major cost advantages for people from overseas.