Introduction

In Cochin or Kochi, dawn is not often a thing of breathtaking beauty, but just a careless smear of tinted light where sea and sky unite. Daybreak is full of indeterminate promise. A slow lividness at the mist-obscured harbor mouth meets the swelling untamed surge of the ocean. Cargo-laden barges and vallams or country boats move, ponderously slow, over the sprawling vastness of the Vembanad Kayal, Kerala's largest lake that spreads full bosomed and silver gray in the sultry sun.
Location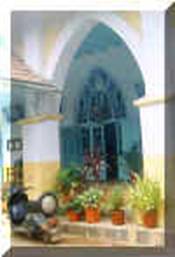 Popularly referred to as the Queen of the Arabian Sea, Cochin is located on the west cost of India in the beautiful state of Kerala. The city can be regarded as the commercial and industrial capital of Kerala. The city extends from latitude 9'58' in the North to longitude 76'17' in the East.
Best time to visit
November to March is the best period. The rainy season between June and August can also be interesting, if you don't mind the rains.
How To Get There
Air
There are regular flights to Kochi from most metros and towns in the country. The airport is on Wellingdon Island, which is about 5 km away from Ernakulam.



Rail
There are regular trains from Mumbai, Delhi and Chennai. Trains headed for Thiruvananthapuram and Kanyakumari have Ernakulam as a main halt. There are also a few trains headed for Ernakulam.


Road
Ernakulam is an important detour on the National Highway and Old Kochi is linked to Allapuzha. The Kerala State Road Transport Corporation and private owners run many regular buses from Ernakulam to most major destinations within the state. There are also regular buses between Allapuzha and Old Kochi. The Ernakulam bus junction also handles a few long distance buses from destinations in neighbouring states like Mangalore and Bangalore in Karnataka and Madurai, Coimbatore and Kanyakumari in Tamil Nadu.