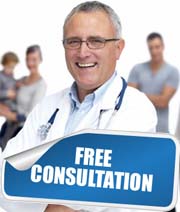 Planning your medical trip to India is a very simple process with India Laparoscopy Surgery Site
You just need to fill in our enquiry form and one of our executive will contact you soon.
+91-9373055368 Call us at the given to contact number for any assistance.
Complete information regarding surgery is provided on our website.
How is laparoscopic disease diagnosed?
The common diagnostic tests done prior any laparoscopic surgery are:
Ultrasound scan of abdomen; done to visualize and identify pathology present in the abdominal organs
CT-scan abdomen; done to visualize the vitality and physiological functioning of intra-abdominal organs
Diagnostic laparoscopy; a guided needle biopsy procedure usually done along with CT scan
Routine blood examination
Urine examination
Chest X-ray and EEG (done only prior diagnostic laparoscopy)
MRI scan; it is not a frequent diagnostic procedure, hence done only in certain cases
How is laparoscopic Cholecystectomy performed?
Laparoscopic Cholecystectomy surgery is a minimal access procedure done to remove ailing gall bladder with the aid of laparoscopic techniques. After appropriate pre-operative examinations and preparations the patient is shifted to OT for surgery. The surgery is performed under general anesthesia. A prime incision of about half an inch is made around the navel area. Three other incisions of about quarter to half inch are also made nearby the prime incision. Laparoscopic ports are placed through these four incisions for inserting laparoscope (narrow instrument with camera placed at its tip) and surgical instruments. A laparoscope is introduced via the prime incision that aids the surgeon during surgery by providing a magnified view of patient's abdominal organs. The other three incisions are used to introduce surgical instruments that help the surgeon to dissect and remove gallbladder from liver and bile ducts. One of these ports is later used to remove separated gallbladder from patient's abdomen. Once the gallbladder is removed all the four incision are closed.
What is a Cholecystectomy procedure?
Cholecystectomy is a surgical procedure done to remove gallbladder (an organ that collect and store bile). It is the procedure of choice for managing gallstones that block the normal bile flow. Nowadays, Cholecystectomy is largely performed by inserting tiny video camera in abdomen, this procedure is known as 'Laparoscopic Cholecystectomy'. Whereas, in some cases a classical open surgery is performed to remove gallbladder, this procedure is known as 'Open Cholecystectomy'.
What to expect from Cholecystectomy procedure?
After the preoperative examination, surgeon elects a procedure of choice for Cholecystectomy. In majority of cases, laparoscopic surgery is elected but in some specific cases patient has to undergo an open Cholecystectomy. Both types of Cholecystectomy procedures are performed under general anesthesia; hence patient is not awake during the procedure. A breathing tube is inserted into the throat of the patient that assists in breathing during the surgery. An incision about 6 inches long is made on the abdomen near the bellybutton of the patient during open procedure; whereas, only 2-4 small incisions are made in laparoscopic procedures. Once the gall bladder is removed the incisions are sutured and patient is shifted to recovery room for post operative monitoring.
What can you do to help yourself?
To prepare yourself for Cholecystectomy, you may be asked to:
Eat nothing the night before surgery
Only take sips of water for medication at least four hours prior to surgery
Drink solution that assist in flushing stool out of your intestine
Advised certain medications
Plan your hospital stay. A laparoscopic procedure require only 24 hours stay, but you need to stay 4-5 days following an open procedure
Best options available for Laparoscopic procedures in India
India offers the best in class and cost-effective health care facilities. The best hospitals across India are dedicated in providing optimum health care with compassion. These hospitals are equipped with latest medical technologies and harvest the best medical talent. The surgeons of India are highly professional, well-qualified and renowned in world for skills and expertise in all genera of laparoscopic surgeries. The best option available for laparoscopic procedure in India includes high-end surgeries like:
Laparoscopic Cholecystectomy
Laparoscopic gastric binding
Laparoscopic gastric bypass
Laparoscopic weight loss surgery
Laparoscopic hysterectomy
Laparoscopic appendectomy
How to get started?
Planning your medical visit for India is an uncomplicated process with IndiaLaparoscopySurgerySite
Just fill in our query form and our representative will contact you
Call us at +919579129423
Visit our web page for more information regarding surgery
Cholecystectomy is an ideal procedure of choice for gallbladder pathologies that are spread to adjacent abdominal organs like malignant gall bladder carcinoma, Gangrene of gall bladder and End stage liver cirrhosis This procedure allows the surgeon to inspect the abdominal cavity and manage the condition likewise. Cholecystectomy procedure is also done as a transition procedure when undergoing laparoscopic procedure has any complications.
What we will provide?
IndiaLaparoscopySurgerySite provides you with:
A transparency in planning your medical visit to Indiay
Best surgical options available in India those are cost-effective too!y
One on one assistance throughout your visity
Personalized care by our dedicated hospitality staffy
Complete assistance in planning your visit including travel, hospital stay, appointments with doctorsy
Assistance in planning a tour to various scenic places across India that will help you to recuperate well after surgery