Profile Details
Dr. Vikram Sharma is an Urologist, Andrologist and Kidney Transplant surgeon at Fortis Hospital, Gurgaon. A pioneer in Endourology with many surgical innovations to his credit, the Best Urology surgeon in India has been instrumental in introduction of the Green Light Laser treatment for prostate surgery in India. Also the Founding Director of the Alpha One Andrology Group, the first Andrology Centre in India, Dr. Vikram Sharma Urology surgeon in Gurgaon is exclusively dedicated to the treatment of Male Sexual Dysfunction.
With a vast experience of over 28 years in Laparoscopic Urological Surgeries, Dr. Vikram Sharma Chief Urology Surgeon in Fortis Gurgaon has been a speaker and invited faculty member at various national and international conferences. He has been extensively featured in visual, print and electronic media for his contributions in the field of urology. Dr. Vikram Sharma has been a pioneer in Endourology with many surgical innovations to his credit and has a vast experience in Robotic and Laparoscopic Urological Surgeries. Get a fast track reply from Dr. Vikram Sharma urology specialist in Gurgaon here.
Education
MBBS

MS (Gen. Surg)

PG Diploma in Urology from Institute of Urology, London

Travelling Fellowship in Urology from Brady Urological Institute at Johns Hopkins Institute, Maryland, USA
Specializations
Urology
Dr. Vikram Sharma's Association with Fortis Hospital, Gurgaon
The Department of Urology at Fortis Hospital, Gurgaon offers advanced urological care at par with the international standards. We offer complete spectrum of diagnostics and treatment for urology cancers, laparoscopic urology, prostate diseases, stone disease, reconstructive urology surgery, paediatric urology, erectile dysfunction, paediatric renal transplant and andrology. To book an instant appointment with Best urology surgeon Fortis Hospital Gurgaon, call Dr. Vikram Sharma urologist contact number. To get Urology surgeon Dr. Vikram Sharma appointment, send query to Dr. Vikram Sharma Email Address.
Video
Dr. Vikram Sharma, Director Urology Department at Fortis Memorial Research Institute, Gurgaon talks about the robotic urological programme, the cutting edge technology- robotic surgery has in urological cancer and its advantages for the patients.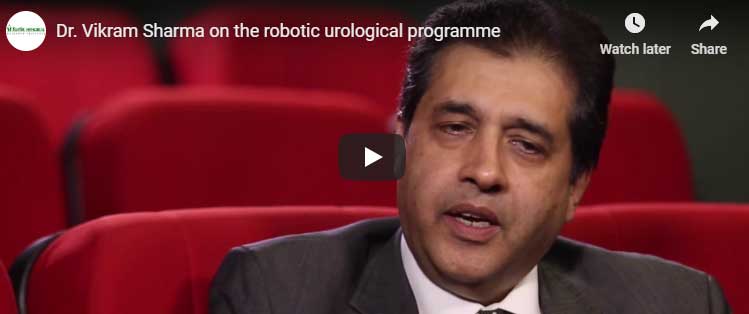 Work Experience
Director, Urology, Andrology and Kidney Transplantation Fortis Memorial Research Institute, Gurgaon, January 2014 – Current

Visiting Professor Urology at Keck School of Medicine, University of Southern California, Los Angeles, USA

Senior Consultant, Urology, Andrology and Kidney Transplantation, Max Super Speciality Hospital, Saket, New Delhi February 2008 – January 2014

Senior Visiting Consultant, Urology and Andrology, Indian Spinal Injuries Centre February 2005 – February 2008

Head of Department, Urology and Andrology Indian Spinal Injuries Centre, New Delhi July 2002 – January 2005

Director Alpha One Andrology Group and Senior Consultant Urologist, Aashlok Hospital, New Delhi, October 1992 – June 2002

Senior Honorary Consultant Urologist Batra Hospital and Medical Research Centre, New Delhi March 1991 - September 1992

Head of Department & Chief Administrative Officer Department of Surgery and Urology Tagore Hospital Ludhiana, Punjab October 1986 - February 1991

Senior Registrar Department of Surgery Dayanand Medical College and Hospital, Ludhiana, Punjab, January 1985 - December 1985
Memberships
American Urological Association, USA

Endourological Society, USA

British Association of Urological Surgeons, UK

Association of Surgeons of India

Indian Medical Association

Urological Society of India

Delhi Medical Association
Research Experience
Invited as faculty and Chairperson for numerous national and international conferences

Various research papers have been published in national and international journals

Conducted different live operative workshops at conferences
OUR GROUP BRANDS