Profile Overview :
Dr Rajesh Ahlawat is one of the Best Urologist and Top Robotic Kidney Transplant Surgeon in Gurugram, India. He is Chairman of the Department of Urology and Andrology, Kidney and Urology Institute, Medanta Hospital in Gurugram, and has an overall experience of more than 39+ years. He worked at leading Institutions in North India and has established successful Minimally Invasive Urology programs including Robotic surgery and Kidney Transplant services with excellent outcomes comparable to the best in the world.
Dr. Rajesh Ahlawat has initiated and established four successful Urology and Renal Transplant Programs in India. He has spearheaded the busiest Minimally Invasive Urology services in India at his workplaces. An accomplished minimally invasive surgeon, he has been invited as a guest faculty for a live demonstration variety of Laparoscopic and Robotic surgeries such as Pyeloplasty, Radical Prostatectomy, Partial Nephrectomy, Kidney Transplantation surgeries, and Radical Cystectomy at live surgery workshops held around the globe. So, fix a quick appointment with the Best Renal transplantation surgeon in Delhi India via Dr. Rajesh Ahlawat Contact Number.
Dr Rajesh Ahlawat Best Urology Surgeon in India has pioneered the world's first Robotic Kidney Transplant (RKT) with regional Hypothermia technique in collaboration with Prof. Mani Menon's team from Vattikutti Urology Institute (VUI) at Henry Ford Hospital, Detroit, USA. He is working as Director at VUI International to spread the robotic technique around the world. Send your medical reports to Dr. Rajesh Ahlawat Email Address for the quick reply.
Education :
MBBS from King Georges Medical College, Lucknow University, 1976
MS (General Surgery) from King Georges Medical College, Lucknow University, 1980
MNAMS (General Surgery) DNB Board, New Delhi, 1982
MCh (Urology) from All India Institute of Medical Sciences, New Delhi, 1986
The department of Kidney and Urology Institute at Fortis Hospital is a centre of excellence for those with diseases of the urinary system including the bladder, kidneys and the prostate gland. Our finest experts work together to deliver the highest level patient care with best clinical outcome. Request a quick appointment with Dr. Rajesh Ahlawat Urology surgeon at Fortis Delhi.
Dr. Rajesh Ahlawat's Patient Reviews - A Zambian's Encounter with Robotic Surgery by the Skilled Hands of Dr. Rajesh Ahlawat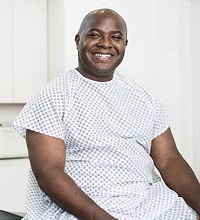 Mr. Zambia Samuel Mwamba
In the heart of Lusaka, Zambia, Samuel Mwamba, a 38-year-old facing prostate cancer, sought healing from Dr. Rajesh Ahlawat. As the news of his diagnosis unfolded, Samuel embarked on a journey that would test not only his physical endurance but also his spirit. In his pursuit of healing, he discovered the innovative realm of robotic prostate cancer surgery, a beacon of hope in the field of medical science. Their connection transcended the typical doctor-patient relationship, founded on shared determination for a second chance at life. Opting for robotic prostate cancer surgery, Samuel's trust in Dr. Ahlawat deepened as the surgical team orchestrated a symphony of technology and humanity. Months later, Samuel emerged successfully healed, illustrating the transformative power of innovation and compassionate care. This tale from Zambia embodies the belief that, in the hands of a compassionate healer, even the most intricate battles can be triumphed.
★★★★★ Published
Address
Dr. Rajesh Kumar Ahlawat,
CH Baktawar Singh Rd, Medicity,
Islampur Colony, Sector 38,
Gurugram, Haryana 122001
GEO:
13.0631318
,
80.2515658