60 years old woman have removed 830 stones from the gallbladder at a Fortis hospital in Delhi. She was suffering from a cancerous tumor, and she has also been experiencing intermittent bouts of fever and peculiar stomach ache. Doctors advised the patient to go for an ultrasound and CT scan.
In January specialist team at Fortis hospital in Shalimar Bagh performed two-hours of laparoscopic procedure on the women to remove her gallbladder. The surgery was highly unusual and complex that helped the uncertain patient symptoms.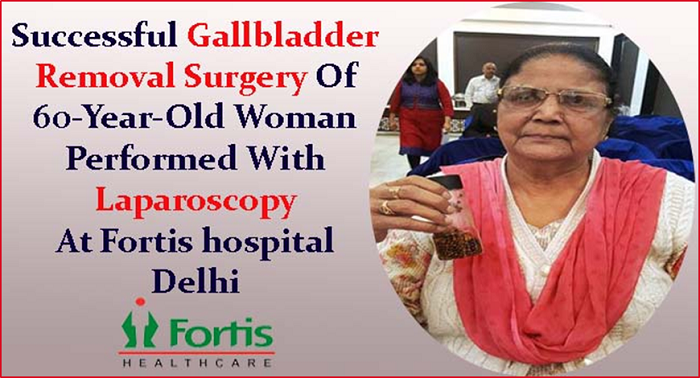 "Patient's gallbladder surgery was extremely inflamed, and it has grown six times than its original size. As the surgery was planned, with the help of laparoscopy surgery, her gallbladder would be removed," said Amit Javed, a consultant at gastrointestinal surgery at Fortis Hospital.
Dr. Javed further added, "after the removal of the gallbladder, when we opened it to look inside before sending it for biopsy, we found hundred large gall stones inside it. There were a total of 838 Gallstones and that was rare and unimaginable."
Gallstones are solid particles that form from bile cholesterol and bilirubin. They are the masses formed abnormally in the gall bladder when the liver secreted too much cholesterol in the bile. Middle-aged women are mostly affected by gallstones cancer.
"Gallstones cause severe pain and symptoms of indigestion. Complications like blockage of the bile duct can lead to jaundice, pancreatitis and severe infection. These conditions are commonly found in patients with gall bladder cancer implying possible causation. The patient was suffering from an old stones problem and her biopsy reports result was negative. In nature, cancer of gallbladder is very aggressive and are usually gets detected in the final stages of the disease, they present the vague symptoms which are not taken seriously by most people. The only remedy for gallstones and cancer is the complete removal of the organ." Said Dr. Amit Javed.
Source : https://www.thehindu.com/news/cities/Delhi/838-gallstones-found-in-womans-bladder/article17397063.ece