Dr. Tejinder Kataria
Cancer Institute- Division of Radiation Oncology
Dr. Kataria joined Medanta Cancer Institute in Oct, 2009 and has been instrumental in setting up the Division of Radiation Oncology. The division has a dedicated team of professionals to provide integrated cancer care using the state of the art equipment. It is equipped with India's first Infinity Linear Accelerator with Volumetric Modulated Arc Therapy (VMAT) and Synergy -S with beam modulator and SRS facilities. The Integrated Brachytherapy Unit from Nucletron is a first for northern part of India and is capable of treating patients with low dose rate seed implants as well as high dose rate brachytherapy. Dr Kataria has been instrumental in commissioning, the latest techniques of stereotactic radiation with micro multi leaf collimation, whole body stereotactic radiotherapy (SBRT), Image Guided Radiotherapy (IGRT), Intensity Modulated Radiotherapy (IMRT)and 3-D Conformal Radiation (3D CRT), PET-CT, MRI, SPECT, DSA and CT-Simulator fusion for treatment planning. Prior to this, she had been instrumental in starting the Department of Radiation Oncology at Artemis Health Institute in 2007 and Rajiv Gandhi Cancer Institute in 1996.
Medical Qualification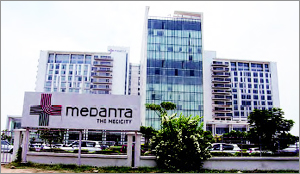 CCST (Clinical Oncology) British Institute of Radiology (UK) 2005
DNB (Radiotherapy) National Academy of Medical Sciences (India) 1993
MD (Radiotherapy) Jawaharlal Nehru Post Graduate Institute of Medical Education & Research (India) 1987
FIMSA International Medical Science Academy 2003
Commonwealth Scholar British Council 1994-1995
AROI - Leeds Fellow Association of Radiation Oncology of India 1993
Department Institute
Cancer Institute - Division of Radiation Oncology
Expertise
Stereotactic Body Radiotherapy (SBRT), SRS

Volumetric Modulated Arc Therapy (VMAT)

Image Guided Radiotherapy (IGRT)

Intensity Modulated Radiotherapy (IMRT)

Brachytherapy
Doctor's Experience
Medanta - The Medicity Chairperson-Radiation Oncology Since 2009

Artemis Health Institute, Head Radiation Oncology 2007-2009

Indraprastha University, Professor 2007

Rajiv Gandhi Cancer Institute, Senior Consultant 1996-2007

Maulana Azad Medical College, Associate Professor 1994-1996

Maulana Azad Medical College, Assistant Professor 1992-1993

Post Graduate Institute of Medical Education & Research, Assistant Professor 1991-1992
Memberships & Certifications
Indian College of Radiation Oncology

Association of Radiation Oncologists of India

Indian Society of Radiation Biology

Association of Medical Physicists of India

American Society of Radiation Oncology

European Society of Therapeutic Radiation Oncology
Awards & Accomplishments
National Education Scholarship Merit 1977

Himachal State Scholarship MBBS 1978

DGHS Scholarship MD, Radiotherapy 1985

National Excellence Award Humanitarian Work in Cancer 2002

Best Paper Award, AROI/National Cancer Congress Breast Irradiation / IMRT in Head & Neck Cancers 2010 / 2003

International Health Professional of the Year Radiation Oncology 2006

Marquis Who's Who in Science & Engineering Radiation Oncology 2007

Marquis Who's Who in the World Radiation Oncology 2009-2010
Publications
Set up uncertainities: Online correction with X-Ray Volume Imaging(X-VI.) Journal of Cancer Research and Therapeutics 2011 Jan-Mar 7(1):40-6

Pulmonary metastasis from renal synovial sarcoma treated by Stereotactic Body Radiotherapy : A Case Report and review of literature Journal of Cancer Research and Therapeutics Jan-Mar;6(1):75-9, 2010.PMID20479551

Synchronous malignant vagal paraganglioma with contralateral carotid body paraganglioma treated by radiation therapy Rare Tumors 2010; vol 2, No.2 (e21): 57-59

Reverse Boost with Interstitial implants in the treatment of early stage breast carcinoma Brachytherapy Bulletin of Indian Brachytherapy Society July-Sept.2009; 1(3), 4-10

Radiotherapy in management of Ovarian cancers Journal of Medical and Paediatric Oncology Dec, 2007

Intensity modulated radiotherapy in abdominal malignancies: Our experience in reducing the dose to normal structures as compared to the gross tumour Journal of Cancer Research and Therapeutics December 2006-Vol. 2(4):161-5.PMID17998698

Dose reduction to normal tissues as compared to the gross tumour by using intensity modulated radiotherapy in thoracic malignancies Radiation Oncology 29th August 2006 (BIOMED- Central) published online.PMID16939650

Partial Breast Irradiation - Alternative to protracted radiation in breast conservative surgery Journal of International Medical Science Academy 19, No. 1, pp.59-60, January-March, 2006

Primary testicular lymphoma: a case report Haema 2006, 9 (2): pp. 286-289

Intracranial metastasis from adenocarcinoma of cervix: a case report Intentional Journal Gynaecology Cancer 5(3): 561-3, May-Jun; 2005

Magnetic resonance imaging in carcinoma cervix- does it have a prognostic relevance? Journal of Cancer Research and Therapeutics Vol.1, Issue 2, pp. 103-107, June 2005

Newer technology in radiation therapy for oral cancer Journal of International Medical Science Academy Jan-Mar, 2003, Vol. 16, No.1