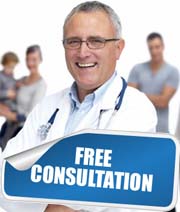 Planning your medical trip to India is a very simple process with India Laparoscopy Surgery Site
You just need to fill in our enquiry form and one of our executive will contact you soon.
+91-9373055368 Call us at the given to contact number for any assistance.
Complete information regarding surgery is provided on our website.
What is laparoscopic varicocele repair surgery?
Varicocelectomy is a surgery to repair a varicocele, a swelling of veins in the scrotum. This swelling is caused due to blood backing up in the veins. A varicocele can cause pain or heavy feeling in the scrotum but usually it is painless. It can also cause the problems with fertility. During this surgery, the swollen veins are cut and then the ends are closed off. Other veins in the groin area take over carrying the blood supply. This surgery can be done either with a technique called laparoscopy or through open surgery.
During the laparoscopic varicocele repair surgery, a thin, lighted tube called a laparoscope is used which allows the doctor to work through a few small incisions.
Check out the Varicocele surgery cost in Bangalore, Mumbai, Chennai and Kerala on our website.
Advantages of laparoscopic varicocele repair surgery:
Most people prefer to undergo the laparoscopic varicocele repair surgery due to the following advantages:
Smaller 5mm wounds causing minimal trauma and pain
Low cost
Short duration of surgery
Shorter duration of stay in the hospital
Rapid recovery
Best Surgeons for laparoscopic varicocele repair surgery in India
The laparoscopic varicocele repair surgery requires special skills to perform and the best surgeons in India ensure the safety and care of the patient at low costs. The decision whether you should undergo a laparoscopic surgery depends on your overall health and your medical condition. Speak to your doctor regarding the options before undergoing the laparoscopic varicocele repair surgery in India. Today, the rapid advancements in the field of medicine and technology have enabled the physicians and doctors to perform the laparoscopic surgeries for treating different types of urological conditions.
A highly skilled and professional team of board-certified urologists are committed to providing compassionate and high quality urological care for the patients with options ranging from surgical procedures to the medical management. The Best Surgeons for Varicocele Repair Surgery in India have a proven track record of exceptional service, hospital leadership and quality care at low costs that has earned the trust of the patients and respect for our peers.. The Medical Qualifications of the Best Surgeons in India are as follows:
MS in General Surgery
MCH in Urology Surgery
DNB/FRCS/MRCS from the International Colleges and Hospitals
International Fellowship and Training Programs
Publications and Paper Presentations in Reputed Scientific and Medical Journals
Web Clinical Experience
List of Best Surgeons for Laparoscopic Varicocele Repair Surgery in India
Dr. Sanjay Pandey
Dr. Gagan Gautam
Dr. Anant Kumar
Dr Mahendra Jain
Dr Manu Gupta
Dr. Rajiv Goel
Dr. Raja's
Dr Rupin S Shah
Dr.Lalitha's
Dr Vipin Tyagi
Dr. Dilip Raja
Dr Milind Bapat
Dr Tejanshu
Dr. Sumit Mehta
Dr Pradeep P Rao
Dr Ashish Sabharwal
Dr.Bhupendra Panchal
Dr. Neelu Desai
Dr. Amitabha Chanda
DR ADITYA GUPTA
Dr. Swaroop Gopal
DR ADITYA GUPTA-
Dr. Amitabha Chanda
Dr. Neelu Desai
Dr. Amitabha Chanda
Dr. Sudhir V. Shah
Dr. Nilesh M. Bhandari

Dr. Abhishek Srivastava
Dr. S. K. Biswas
Dr. Mohit Bhatt
Dr. M. Behari
DR NAMIT GUPTA
Dr. Abhaya Kumar
Dr. Rajeev Ranjan
Dr. Sai Sudarsan
Dr N R Ichaporia
Dr. Jayanti Mani
Dr Sweta Singla
Dr.Sanjay Mongia
Dr. Anandh
Dr. R.S. Jain
Dr.TejanshuShah
Dr Sudhir Khanna
Dr. Soumyan Dey
Dr. Rajesh Taneja
Dr. Parag Gupta
Dr. Shailesh Raina
Dr. Hemant R Pathak
Dr. Anup Ramani
Dr. P.J Chibber
Dr. Prakash Chandra
Dr. Jagdeesh Kulkarni
Dr Rajinder Yadav
Dr. Vinod K V
Dr Anurag Khaitan
Consult the Top Surgeon for Laparoscopic Varicocele Repair in India Click Here
Top Hospitals for laparoscopic Varicocele Repair in India
The top hospitals for laparoscopic varicocele repair surgery in India ensures to offer the superior quality healthcare with the help of specially skilled surgeons and the latest cutting edge technology and state of the art infrastructure at low costs. Top Hospitals for Varicocele Repair Surgery in India offer comprehensive hands-on skills training component and an assessment tool designed for the fundamental knowledge, physiology and the technical skills required for the basic laparoscopic surgery. Our goal is to provide the practicing physicians with an opportunity to perform a consistent and scientifically accepted format of laparoscopic surgery with the aim to improve the quality of patient care at the most reasonable lower charges in India when compared to the developed countries.
Fortis Healthcare Hospital, Apollo Hospital, Wockhardt Hospital, Max Healthcare Hospitals, etc. located at various locations like Delhi, Mumbai, Hyderabad, Chennai and Bangalore offer best quality medical treatment at highly affordable price.
List of Best Hospitals for Laparoscopic Varicocele Repair Surgery in India
Muljibhai Patel Urological Hospital
Samved Urology hospital
RG Stone Urology & Laparoscopy Hospital
Columbia Asia Referral Hospital
Aashray Urology Institute
NU Hospitals
BLK Super Speciality Hospital
Devasya Kidney & Multi Speciality Hospital
Columbia Asia Hospital - Whitefield
Manipal Hospitals
Fortis Hospital
RG Stone Urology & Laparoscopy Hospital
Malabar Hospitals
Fortis Hospital
Global Hospital
KMC Hospital
Fortis Malar Hospital
S. L. Raheja Hospital

Artemis Hospital
Kidney Hospital
Sunrise Hospital
Soni Manipal Hospital
Columbia Asia Hospital - Hebbal
Yashoda Hospitals
N M Virani Wockhardt Hospital
Patel Hospital
Yashfeen Hospital
Sir Ganga Ram Hospital
Columbia Asia Hospital - Palam Vihar
Saket City Hospital
Rockland Hospital
GEM Hospital
Fortis Hospital
Max Super Speciality Hospital
Jaypee Hospital
NUSI Wockhardt Hospital
Contact the Top Hospital for Laparoscopic Varicocele Repair Surgery in India Click Here
Preparing for the Surgery:
You should follow all the instructions given by your doctor before the surgery. Additionally, inform your doctor about all the medicines you take including the herbs and other supplements like blood thinners such as aspirin, warfarin or clopidogrel. You may need to stop taking some or all of them before surgery, as instructed by your doctor.
Do not eat or drink during the 8 hours before surgery. Avoid taking coffee, mint, water and gum before the surgery. If you have been instructed to take medication, take them with a small sip of water.
What to Expect on the Day of Surgery?
The surgery will take about 2 to 3 hours and you'll likely go home the same day itself.
Before the surgery, an IV line is put into a vein in your arm or hand to supply the fluids and medicines. You may receive a medicine to prevent blood clots. You'll be given general anaesthesia to keep you free from the pain during the surgery. It will put you into a state like deep sleep through the surgery. A tube may be inserted into your throat to help you breathe and a thin tube or catheter is placed in your bladder to drain the urine.
During the surgery, your doctor makes a few small incisions in the abdomen. The scope is then placed through one of the incisions which sends the live pictures of the inside of the abdomen to a video screen. The abdomen is filled with a gas which makes the space for the surgeon to see and work. Using the tools placed through the other incisions, the swollen veins are then cut and the ends are then sealed with the tiny clips. Or the ends may be cauterized. At the completion of the surgery, all the tools are removed and the incisions are then closed with the stitches or staples.
Note: The surgeon will begin with laparoscopy, but he or she may need to change to open surgery for safety reasons. Open surgery is done using an incision in the abdomen or the groin. You'll be told more about this possibility before the surgery.
What to Expect After the Surgery?
After the surgery, you'll be taken to a recovery room to rest until the anaesthesia wears off. You may feel sleepy and nauseated. If a breathing tube was used, then your throat might be sore at first. You'll be given medicines to manage any pain. The catheter will be removed from your bladder. When you're ready to go home, you'll be given the following instructions so that the healing begins at home.
Care for your incisions as per instructions.
Take all the medicines as directed by your physician.
Apply ice or cold compress to the scrotum for 10 minutes at a time for the first 48 hours. It will help reduce the swelling.
Follow your doctor's guidelines for showering. Avoid bathing, swimming, using a hot tub and other activities that cause the incision to be covered with water until your doctor say's it's OK.
Avoid heavy lifting and other strenuous activities as directed.
Avoid sex for 1 or 2 weeks.
Avoid straining to pass stool. If needed, take stool softeners as directed by your doctor.
Avoid drifting until your doctor says it's OK. Do not drive if you are taking medicines that make you feel drowsy or sleepy.
You'll have a follow-up visit so your doctor can check how well you're healing. If your stitches or staples are required to be removed, then it will be done in 7 days. If you are concerned about fertility, a sample of your semen can be checked in about 3 to 4 months to see if the number of sperms has improved.
What is the Cost of Laparosocpic Varicocele Repair Surgery in India?
The cost of laparoscopic varicocele repair surgery in India is lower than the cost for the same performed in the USA. The cost for flying down to India for the surgery is still less than the cost incurred for this procedure in the US. Find out the Varicocele Treatment cost in Hyderabad on our website.
What do we provide?
IndiaLaparoscopySurgeryite.com are the pioneers of medical tourism in India. We put forward a cost –effective laparoscopic varicocele repair surgery at the best hospitals of India. Our associate top laparoscopic hospitals are JCI credited and strictly adheres to international norms of laparoscopic varicocele repair surgery. Our associate hospitals have surgical teams lead by the best laparoscopic surgeons of India. The surgeons at these hospitals are highly skilled and hold expertise in all types of laparoscopic surgeries. Planning affordable laparoscopic varicocele repair surgery in India with us is a simple and clutter free process. Get in touch with us to know the varicocele surgery price in India. IndiaLaparoscopySurgeryite.com offers you;
A transparency in planning your medical visit to India
Best surgical options available in India those are cost-effective too!
Complete value for your hard earned money
One on one assistance throughout your visit
Comprehensive foreign language assistance when required
Personalized care by our dedicated hospitality staff
Complete assistance in planning your visit, including travel, hospital stay, appointments with doctors
If you are seeking for the Affordable Laparoscopic Varicocele Repair Surgery In India, kindly fill up the form for a free consultation with our surgeons. You will be provided with thorough analysis and suggestions regarding Low Cost Varicocele Repair Surgery In India with Best Laparoscopic Surgeons and Top Laparoscopic Hospitals