At Wockhardt Heart Hospital, Nagpur, we are convinced that a judicious blend of technology, clinical expertise and personalized care applied in the context of achieving patient satisfaction can make our pursuit of excellence in health care highly rewarding. As a hospital, all our efforts are dedicated and committed to the creation of patient value. The hospital is a center of excellence for cardiac surgeries and Angioplasties and has performed the first Endoscopic Radial Harvested Coronary Bypass Surgery.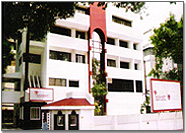 INTERNATIONAL PATIENT SERVICES
Wockhardt Hospitals Group, has set up a special division to look after the needs of International Patients and make their stay comfortable and make them feel at home. Company guest relations persons themselves go to the airport to receive patients at any hour, we can arrange to send a life support ambulance incase the patient needs it. International patients are looked after by specially trained nurses, and facilitated by guest relations executives for any special requirements like accommodation for the companion, shopping, interpreters, currency exchange, tourism packages etc. all through their stay.
SERVICES & PROCEDURES<
The Wockhardt Heart Hospital is one of the best heart hospitals in the country. Our doctors are leaders in cardiology, cardiac surgery, cardiothoracic anesthesia and research into the heart and its diseases.
Our cardiac surgeons are pioneers. We were the first to perform Endoscopic Radial Harvested Coronary Bypass Surgery. We continue to develop and refine new procedures and devices to provide patients with high quality and innovative treatment for heart disease.
The Wockhardt Heart Hospital offers life-saving cardiac procedures such as Open-heart Surgery, Angioplasty, Stent Implants, Surgery for Aortic Trauma and other heart muscle saving treatments. We also provide cardiac services related to prevention and diagnostics, which are saving lives and improving the quality of life of our patients. At the Wockhardt Heart Hospital, we have what's needed to restore your heart to optimal health. We offer a comprehensive heart-care program that's tailored to your individual needs. Our doctors and nursing staff are knowledgeable and experienced, and can help you every step of the way.
Here at Wockhardt Heart Hospital we use the most advanced technologies to diagnose and treat a wide variety of heart conditions. The Wockhardt Heart Hospital is on the leading edge of cardiac care and treatment. The following are some of the latest and most advanced technologies and procedures in the field of cardiology - all available at the Wockhardt Heart Hospital.
The types of procedure that are performed at Wockhardt are:
Surgery of Aneurysms
Surgery of Heart Valves
Vascular Surgery
Thoracic Surgery
Pulmonary Surgery
Amplatz Closure for ASD
OPEN HEART SURGERY
Open heart surgeries at Wockhardt Heart Hospital include coronary artery bypass grafts and valve replacements, as well as other corrective heart surgeries. A specially trained team of heart surgeons, work closely with specially trained cardiac nurses and other health care professionals to provide patients with the latest treatment available.