Bombay Hospital is a hospital in Mumbai, India. It was founded in 1950 by R. D. Birla. It has 830 beds, 110 of which are in the critical care and recovery area. It has 22 operating theatres, 3200 full time employees, 240 eminent consultants and 200 resident doctors. In the R D Birla International Cardiac Centre associated with Bombay Hospital, there are 4 dedicated operation theatres, 2 cath labs where 1800 surgeries and 4000 angiographies/angioplasties are conducted each year.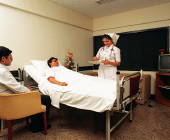 The department of neurosurgery and neurology also has 4 dedicated operation theatres. The department of orthopaedics has 5 dedicated operation theatres.
The departments include:
Department of neurosurgery and neurology
Department of orthopaedics
Department of cancer
Department of nephrology and urology
Department of Imaging with facilities for CT scan, MRI besides other facilities
ADMISSION FORM
The patient or his relative has to duly fill and sign the admission form prior to the admission.

It is it be noted that the information given in the admission form should be correct as the same is noted in the admission papers and is used for all practical purposes like birth certificate, insurance claim, medico legal purposes etc.

Bombay Hospital is a tertiary referral acute care private hospital equipped with the latest medical technology and equipment. We offer a comprehensive range of medical and surgical facilities for the total management of our patients under one roof. At Bombay Hospital, our foremost responsibility is to provide quality care and service to our patients.

We are committed to meet your needs and to make your stay in the hospital comfortable and pleasant. Please do not hesitate to ask our staff for assistance. We wish you a pleasant stay.
IMPORTANT GUIDELINES
Deposits/Payments are to be made in Cash/Demand Drafts/Travellers cheques, All Credit Cards accepted, except American Express.

All deposit receipts are provisional and should be surrendered at the time of discharge.

No surcharge is levied on Heart Valves, Oxygenators, Pacemakers, Prosthesis and Stents, Medicines purchased from Pharma Sales Department.

If, during the stay of a patient, weekly bills that are submitted are not settled within the prescribed time, the Hospital reserves the right to transfer the patient to the General Ward.

Foreigners and NRI's are supposed to deposit their Passports and other relevant documents with the Hospital at the time of admission.

In the unlikely event of a breakdown of the computer system before the final bill is prepared, the patient will be required to make an additional deposit, approximating to the final bill at the time of his/her discharge. The final settlement of the bill will be made later on.

For any discrepancy in the bills, please contact the Finance or Billing Section on Extension No. 352 or 439.

Medical Claims for reimbursement purposes will be attested by the Deputy Medical Superintendent or Officer on Special Duty-Extension No. 217 and 471.

In case Ambulance service is required, please contact Direct No 2067309, or ICU-MRC on Extension No. 335 or 332.

All medicines should be purchased only from the Hospital Pharmacy. Medical/Surgical consumables shall be supplied by the Hospital Store. Purchase of Medicines/Surgical consumables from outside the hospital is strictly prohibited.

Patients are advised not to keep any valuables, jewellery or other costly items with them during their stay at the Hospital.

Patients/relatives are requested not to tip the staff as this is strictly prohibited.

Any employee demanding tips should be reported to the Ward Incharge or to a Medical Administrator on call.

In case the patient has any problem or would like to make any suggestions during his/her stay in the Hospital, he/she may register them on the computer located in the Nurses' Duty Room on each floor/ward.

Please do not Smoke or Spit in the Hospital premises.