Urology Surgery Medical Value Travelers from Rwanda to India

Urologic cancer burden has increased globally amid population growth and aging. The field of Urology or Genitourinary surgery involves medically managing diseases of male or female urinary tract and the male reproductive system. The Global Prevalence of Infections in Urology (GPIU) report shows that today's hectic lifestyle is the main reason behind the increase in such infections in the urban areas; whereas, poor economic and hygiene conditions are the main cause behind the rise in the rural areas.
At any Given Point to Send Us a Medical Query : Click Here
Phone Numbers Reach Us-
India & International : +91-9373055368
The organs under the domain of Urology include the Kidneys, Adrenal glands, Ureters, Urinary Bladder, Urethra, and the male reproductive organs (testes, epididymis, vas deferens, seminal vesicles, prostate, and penis). The urinary and reproductive tracts are closely linked, and disorders of one often affect the other.
There are many sub-specialties under Urology:
Pediatric Urology
Urologic Oncology (cancer)
Renal Transplantation
Male Infertility
Kidney disease
Enlarged Prostrate
Calculi (urinary tract stones)
Female Urology
Neurourology (voiding disorders, urodynamic evaluation of patients and erectile dysfunction or impotence).
An Urologist deals with an array of conditions: obstructive uropathy, stone diseases, congenital anomalies, malignant tumors, cancer, incontinence, etc. Not only men but women too face Urology problems – incontinence, cystitis, overactive bladder, diverticuli, voiding dysfunction etc. – need immediate diagnosis and treatment. Within Urology, male sexual dysfunction and infertility have emerged as sub-specialties. With the progress in healthcare, medical management of male infertility is acquiring high level of expertise in the area of Reproductive Psychology and Endocrinology. Some of the Urology procedures are:
Nephrectomy
Cystectomy
Urinary Diversion
Urothropexy
Lithotomy
Pyeloplasty
Mitrofanoff Procedure
Ureterostomy
Nephrostomy
Kidney Transplantation
Urologists not only need a strong knowledge about the fundamentals; but also have to keep themselves continuously updated about the new ways of diagnosis and treatments. As newer and newer therapies are emerging, the field of Urology is constantly evolving. Advances in technology and also emphasis on laparoscopy vs. open surgeries to lessen the pain and recovery time – all of this make the field of Urology surgeries extremely dynamic.
Urology surgery in India: the Beneficial side
The advancement of Urology over the last 50 years has been remarkable. India is in an advantageous position when it comes to Urology surgeries. The Urology Society of India (USI) emphasizes that India has a lot to proffer – an array of cutting-edge Urology treatments, best administration and supreme patient care and satisfaction catering not only to the domestic population but also to the international patients. Lowest cost of treatment, no waiting time, highly skilled Urologists, advanced medical research, education and technology are the factors that keep India are well ahead. India has excellent medical service facilities and the highly qualified doctors use the most sophisticated techniques in surgical and non-surgical treatments – well-equipped Laparoscopic and robotic urology, laser Prostate surgery, and reconstructive procedures, with great proficiency.
Urologists in India have been educated and trained at the apex institutes located in India and abroad; following which, they have been through specialized training and work experience in well-known hospitals in India and around the world. These surgeons are at par with the surgeons from all over the world; offering the best internationally-accredited treatments to patients, ensuring their relief and satisfaction. It would, therefore, be hard to find a Urology condition that an Indian Urologist has not treated.
Significant shortage of Expert Medical practitioners in Rwanda
Access to services is even more challenging for patients in countries like Rwanda, where more than 80 percent of the population are dwelling in rural areas, and there is less than one healthcare professional per 1000 people. That Rwanda is facing a critical deficiency of doctors, is a full-blown crisis now. As revealed by Rwanda Medical Association (RMA), even though basic healthcare amenities are assured in the constitution of Rwanda, the ground reality shows a very sad picture. Rwanda faces deficiency of proficient medical staff due to neglect, mass resignations and unavailability of funds. Current statistics show that the country has only 725 medical doctors making the ratio one doctor to 16,000 patients. This doesn't really meet the World Health Organization (WHO) recommendation of at least a doctor to 10,000 patients.
At any Given Point to Send Us a Medical Query : Click Here
Phone Numbers Reach Us-
India & International : +91-9373055368
The continuous brain drain is another major drawback that limits the access to quality healthcare for Rwandans. With the best medical staff has emigrating for better remuneration, people have to rely on Paramedics and Clinical Officers. Most of the remainder medical staff does not have adequate knowledge and medical facilities to cater to the healthcare needs of the population in poor health. The Rwanda Medical Journal shows that owing to this shortage of medical experts in Rwanda, most of the population has to look for complex Urology treatments in hospitals located in other zones, especially India.
Success Story of Rwandean Patient who Recovered from Uterine Cancer after Endometriosis in India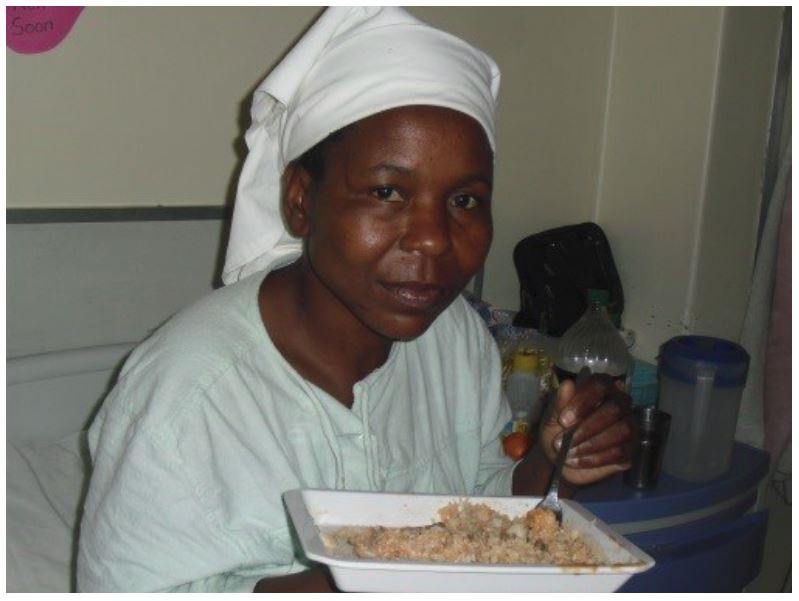 Mrs. Anesu Sibanda From Rwanda

"Hey! My name is Anesu Sibanda and I am from Rwanda. A month ago I was diagnosed with uterine cancer and undergoing surgery was the only treatment option for me. Rwanda however is a backward country when it comes to the healthcare industry and the quality of services provided is less when compare to other nations. Thus my family wanted to take me to some other country for my treatment. During the research for the same they landed upon the website of India Laparoscopy Surgery Site. We were convinced to go with them for my surgery after having an overview of the services offered by them and watching the testimonials of patients."
"And I would say that this was by far our best decision as it was because of the team of India Laparoscopy Surgery Site that I could have a smooth treatment in India. They took care of every aspect of the treatment which included giving us assistance with VISA, hotel reservations, food, transport and appointment with the best surgical oncologist. Within a week of my arrival, I underwent laparoscopic endometriosis surgery in one of the best medical centres of India. Even after the surgery, the aftercare was taken with same compassion and dedication by the staff of the hospital. The team of India Laparoscopy Surgery Site made sure that we were assisted until our way back home and that we faced no problems throughout. The best part of the treatment was that it was offered at a low price. What else could we ask for, it was indeed a complete package and I thank this wonderful team of experts for that."
Inflow of Urology surgery patients from Rwanda to India
As per reports by the Journal of Global Health, relative to the size of the population, Rwanda suffers an acute shortage of healthcare professionals, be it any specialty. That's why patients from Rwanda have been traveling abroad for medical treatments for years now. A lot of them travel to neighboring African countries such as South Africa, Mozambique, etc., but not everyone is happy with the expenditure and the services offered. So, some travel to countries as far away as India, Singapore, Dubai, etc. India has been witnessing a steady growth in the inflow of several thousand medical value travelers from Rwanda since 2010.
The lower cost of healthcare in India compared to leading countries like USA, UK and South Africa, is the main aspect that attracts Rwandans to travel to India. The medical treatment is nearly half its cost as compared to the same in the other major countries. The findings by Journal of Medical Travel (JMT) show that the average range of savings in India is 65-90 percent. But lower cost doesn't mean any compromise in quality.
Urology surgical procedures remain one of the primary procedures for which international patients travel to India. For e.g., If 2,000 Rwandans would visit India every year, out of that, about 100 would be visiting for Urology surgeries alone. As per the Indian Medical Travel Association (IMTA), the number of medical tourists coming to the country for medical purposes was 200,000 in 2016. Further growth potential is huge. Presently, over 10,000 patients travel to South Africa for their various treatments from Rwanda. But with lower price tag and world-class quality advantages, medical value travel providers and hospitals in India are giving South African hospitals a difficult time maintaining their standards.
The hospitals and medical personnel in India have the right expertise and state-of-the-art equipment to conduct even the most complex Urology conditions and leave no stone unturned to look after every patient's completely recovery. So if you are thinking of getting yourself treated in India, you are surely taking the best decision. India has the perfect attributes – expert doctors, advanced equipment and most importantly pocket-friendly treatment packages to ensure that more and more Rwandans travel to India for Urology surgeries and other procedures, and return home successfully treated.
At any Given Point to Send Us a Medical Query : Click Here
Phone Numbers Reach Us-
India & International : +91-9373055368
About Indian Hospitals
India offers some of the best medical treatments in the world. The private hospitals in India have excellent reputation and our healthcare sector has sustained enormous boom in recent years. Despite the prejudices about healthcare in developing countries, rest assured that the urology surgery hospitals in India are at the forefront of medical technology and are well equipped with the modern state of the art technology and highly qualified and experienced urology surgeons. Indian doctors are considered the best in the world with the high level of surgical expertise that evolves from many years of training.
Hygiene in private hospitals in India is excellent and the Rwanda patients seeking cardiac surgery are screened for HIV and Hbs Ag antibodies to prevent the transmission of communicable diseases and incidence of MRSA is minimal. The operation theatres have laminar air flow installed and gaining the ISO9001 standardisation, a voluntary standardisation run b a nongovernmental body where the hospitals must pass rigorous tests to be certified is increasingly becoming popular in the hospitals and the clinics.
Medical Visa Information for Patients from Rwanda to India
Indian Embassy in Rwanda
The Embassy of India has not been established in Rwanda yet. Rwanda nationals are eligible for Indian e-Visa that can be applied online for saving time.
Apply for e-Medical visa online at least four days before the date of travel with a window of 120 days. By that way, you will get the Indian e-Visa approval letter before leaving Rwanda for India, so that you can pick up Indian e-Visa at the arriving airport. Once in India he/she can stay for a maximum of 60 days.
Applicants can visit www.indianvisaonline.gov.in/visa for more information and to apply online.
For any clarification, send email to indiatvoa@gov.in or cons.kampala@mea.gov.in.
Eligibility for Rwandans applying e-Visa to travel to India
Rwandan Travellers whose sole objective of visiting India is short duration medical treatment, recreation, sightseeing, casual visit to meet friends or relatives, or casual business visit.
Passport should have at least six months validity from the date of arrival in India. The passport should have at least two blank pages for stamping by the Immigration Officer.
Rwandan Travellers should have return ticket or onward journey ticket, with sufficient money to spend during his/her stay in India.
Visa invitation letter
When you are applying for a medical visa, a visa invitation letter is required. A visa invitation letter is a formal document that is sent to the patient from the Indian hospital that sanctions his/her medical treatment in that hospital in India.
This also serves the purpose of a proof that the patient has indeed contacted with Indian hospital and will be having his or her treatment there. The visa invitation letter consists of the patient details, details of his/her ailment, treatment procedure and duration of the treatment involved. Hence it is an important and mandatory document required during the application and for the sanction of a medical visa to the patient.
Embassy Information
Commercial Section/Commercial Representative
Officer In-charge:
Mr. Inderpreet Singh,
A Attache (Admin), High Commission of India, Kampala.
Phone-
+256-41-4342994/+256-41-4344631,
E-Mail-
admn.kampalamea.gov.in
Vaccination
Travelers visiting India must possess a valid "Yellow Fever Vaccination" card if they are transiting or have transited through a Yellow Fever Zone.
Flight & Travel from Rwanda to India
Kigali, RW (KGL) to New Delhi, IN (DEL)
Kamembe, RW (KME) to Chennai, IN (MAA)
Kigali, RW (KGL) to Mumbai, India (BOM)
Kamembe, RW (KME) to Bangalore, IN (BLR)
Common Flights to Rwanda to India














At any Given Point to Send Us a Medical Query : Click Here
Phone Numbers Reach Us-
India & International : +91-9373055368
Other Common Procedure for Which Rwanda Patients Come to India are
Neuro Surgery India
Stem Cell Treatment India
Infertility Treatment India
Bone Marrow Transplant India

Kidney Transplant India
Liver Transplant India
Hydrocephalus Treatment India
Dental Treatment India
Orthopedic Surgery India
Cosmetic Surgery India

Plastic Surgery India
Deep Brain Stimulation Surgery India
Robotic Surgery India
Heart Transplant India
Eye Surgery India
Lung Transplant India
Listen to the Voices of Our Happy Patients
Services For Other Countries