Complex Gastrointestinal Tract Surgeries Medical Value Travelers from Malawi to India

According to the World Journal of Gastroenterology, Gastrointestinal and Liver diseases impose a substantial burden, and are accountable for approximately 8 million deaths per year worldwide. Gastroenterology is the study of the normal function and diseases of the Esophagus, Stomach, Small Intestine, Colon and Rectum, Pancreas, Gallbladder, Bile ducts and Liver. It involves a detailed understanding of the physiology of the Gastrointestinal organs including the movement of material through the stomach and intestine (motility), the digestion and absorption of nutrients into the body, removal of waste from the system, and the function of the liver as a digestive organ.
Gastroenterologists can diagnose and treat many digestive disorders, including acid reflux, heartburn, Irritable Bowel Syndrome and Crohn's disease. They specialize in the evaluation, diagnosis, management, and treatment of the following symptoms and conditions:
Cancer
Gall stones
Hemorrhoids
Hiatal Hernias
Tumors
Hernia
Cysts
Peptic Ulcer disease
Colitis
Biliary Tract disease
Pancreatitis
At any Given Point to Send Us a Medical Query : Click Here
Phone Numbers Reach Us-
India & International : +91-9373055368
Laparoscopic surgeries can be sometimes performed; but sometimes surgeon may need to resort to more invasive and complex surgeries. A Gastroenterologist is a physician with dedicated training and unique experience in the management of diseases of the Gastrointestinal Tract and Liver.
Complex Gastro-intestinal Tract surgeries: Advantage India
India's healthcare professionals have the breadth of knowledge that they have seen and treated every possible disorder affecting the GI tract; and the depth of knowledge to define the most appropriate course of action needed for those conditions, according to the Society of Gastrointestinal Endoscopy of India (SEGI). Not only this, the hospitals have world class infrastructure to complement the knowledge of these surgeons.
In India, a Gastroenterologist must first complete a three-year Internal Medicine residency and is then eligible for additional specialized training (fellowship) in Gastroenterology. This fellowship training is generally 2-3 years long and an intense, rigorous program where future Gastroenterologists learn directly from nationally recognized experts in the field and develop a detailed understanding of gastrointestinal diseases.
Owing to such stringent level of training, the Indian Gastroenterologists can skillfully treat any medical condition related to the GI Tract, with a success rate as high as 99 percent. There are precise treatments available for disorders of the GI tract or digestive system. Patients from all over the world come to India for complex GI tract surgeries because the cost is much more reasonable but the quality of the healthcare is excellent. According to the Indian Medical Association (IMA), there is usage of advanced tools for surgeries to treat GI tract disorders ranging from Cysts, Cancer, Hernia, Gall stones and much more. The use of latest technologies in India is at par with the international standards and therefore a lot of medical tourists visit India for complex GI tract surgeries.
Owing to the revolutionary progress of the information technology, it's so easy to get connected to any place around the globe. Seeking health care abroad is, therefore, an additional option available to such patients. Medical value travel industry has been working with the governmental bodies to make travelling to India for surgical procedures as easy as possible for the international patients.
Lack of Healthcare expertise in Malawi
Malawi is one of the poorest countries in the world having some of the worst healthcare statistics, as per the World Health Organization (WHO). Even though basic healthcare amenities are guaranteed in the constitution of Malawi, the ground reality is actually opposite. Further figures by WHO reveal that Malawi has 0.12 health care workers for every 1,000 people (totalling doctors, clinical officers and medical assistants). Lack of training, cost, and availability of resources and low maintenance of equipment are some unique challenges that Malawi is facing acutely. The best medical staff has emigrated. The remainder medical staff does not have adequate medical facilities to even provide the basic healthcare needs for the ailing population in the country. The situation is far worse for complex GI tract surgeries.
Thus, these handful surgeons are able to command premium rates for conducting GI tract surgeries. This would make it unaffordable for most but the well off Malawians to receive the care they need. But curbing the remuneration of these experts would mean they would emigrate. Therefore, for their surgical needs, Malawians have to look for places such as India where such surgeries are readily available and at affordable prices.
Inflow of Gastrointestinal surgery patients from Malawi to India
Developing countries like Malawi are hugely burdened with GI Tract disorders due to the poor living conditions. A study done by the World Gastroenterology Organization (WGO) that Malawi is swarmed with such disorders but Malawians don't have access to the treatment and facilities. Malawi is among the sub-Saharan countries with extremely high rate of parasite infections. Medical Association of Malawi reports show that Gastrointestinal Parasitic infections, Bacterial and Protozoal Diarrhea, Hepatitis A and Typhoid Fever are very rampant in Malawi. However, only 46 percent of Malawians live within a 5 km radius of any health center and hence timely treatment is not possible mostly.
At any Given Point to Send Us a Medical Query : Click Here
Phone Numbers Reach Us-
India & International : +91-9373055368
That's why patients from Malawi have been traveling abroad for medical treatments for years. Many travel to neighboring African countries such as South Africa, Mozambique, etc.; some travel to countries as far away as India, Singapore, Dubai, etc. India has treated several thousand medical value travelers from Malawi since 2010. The lower cost of healthcare in India compared to US and South Africa is the main aspect that attracts Malawians to travel to India. A surgery could cost as lower as 30 percent in India as it would in South Africa. The findings by International Medical Travel Journal (IMTJ) show that the average range of savings in India is 65-90 percent.
The growth potential of medical value travel business from Malawi to India for GI tract surgical procedures can be estimated. Complex GI tract surgical procedures remain one of the top procedures for which international patients travel to India. One can estimate about 10 percent patients visit India for such surgical procedures. If 2,000 Malawians visit India every year, about 200 would be visiting for complex GI tract surgeries alone. Estimates are that about 17,000 Malawians travel to South Africa for their medical treatments every year.
Cost would surely be the key point of attraction for Malawians, but excellence in the offered healthcare services, leading hospitals in India and the proficiency of the surgeons are the other drivers. With numbers this big, one would wonder why the medical value travel companies and hospitals in India are not salivating like the proverbial Pavlovian dog! The projected growth potential would be eye-popping for marketing departments at medical value travel companies and hospitals in India. Data by the International Journal of Health Management and Tourism (IJHMT), the number of medical tourists coming to the country for medical purposes was 200,000 in 2016.
The 'centers of excellence' and the medical staff in India have the right expertise and state-of-the-art equipment to conduct even the most complex GI tract surgeries. India has the right attributes: expert doctors, advanced equipment and most importantly low cost to ensure more Malawians travel to India for complex GI tract surgeries and other medical procedures, to bridge the gap between the diseases and the required treatments.
At any Given Point to Send Us a Medical Query : Click Here
Phone Numbers Reach Us-
India & International : +91-9373055368
About Indian Hospitals
India offers some of the best medical treatments in the world. The private hospitals in India have excellent reputation and our healthcare sector has sustained enormous boom in recent years. Despite the prejudices about healthcare in developing countries, rest assured that the laparoscopy hospitals in India are at the forefront of medical technology and are well equipped with the modern state of the art technology and highly qualified and experienced laparoscopic surgeons. Indian doctors are considered the best in the world with the high level of surgical expertise that evolves from many years of training.
Hygiene in private hospitals in India is excellent and the Malawi patients seeking cardiac surgery are screened for HIV and Hbs Ag antibodies to prevent the transmission of communicable diseases and incidence of MRSA is minimal. The operation theatres have laminar air flow installed and gaining the ISO9001 standardisation, a voluntary standardisation run b a nongovernmental body where the hospitals must pass rigorous tests to be certified is increasingly becoming popular in the hospitals and the clinics.
Malawian Patient Undergoes Successful Laparoscopic Pancreatic Surgery in India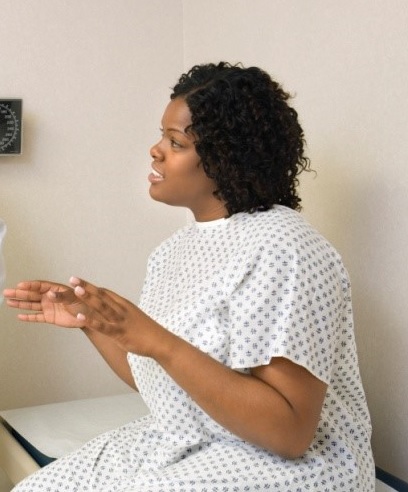 Mrs.Kuliraga Falade From Malawi

"I was diagnosed with pancreatic cancer a month ago and was recommended to undergo surgery for cure. Since the surgeries performed by the surgical oncologists in Malawi are not very advanced and the treatment is carried out under low quality, my family was hesitant for me to undergo surgery there. While searching for a country that could provide high quality surgical procedure at an affordable cost, we came across India Laparoscopy Surgery Site. After going through all the packages and happy stories of the patients, I was convinced to undergo surgery under their assistance."
"Right since the day of our decision to go with India Laparoscopy Surgery Site for my treatment, the team made sure that they don't give us a single chance to regret. The services provided by them were detailed and were offered with great hospitality and warmth. As promised we were given full time assistance by the experts that involved Taking care of the visa, pickup and drop facilities, hotel reservations and setting an appointment with the best laparoscopic surgeon in India. In the following week of my arrival in this country, I underwent laparoscopic pancreatic surgery."
"I thank India Laparoscopy Surgery Site for giving us a wholesome experience and taking care of all my necessities throughout my treatment in India. Life is no more complex now as I am free from this life threatening disease after the surgery."
Medical Visa Information for Patients from Malawi to India
One would need a medical visa if he/she is travelling to India for his/her treatment. The availability, criteria and eligibility of getting a medical visa matters. Hence we provide all the information about the medical visa lest it becomes tricky or confusing.
The High Commission of India, Lilongwe in Malawi, the primary considerations to grant a medical visa includes the serious ailments such as congenital disorders, cardiac problems, neurosurgery, joint replacements, plastic surgery, renal disorders, organ transplantation, ophthalmic disorders, and radiotherapy and gene therapy. The list of treatments is non-exhaustive.
The sole purpose of travel should be undergoing medical treatment in India.
The applicant should seek medical treatments at reputed/specialized/recognized hospitals in India.
Two medical attendants are allowed to travel with the patient which could be his/her family members, associated or relatives.
Documents required for submission of Visa Application to India for Malawian nationals
Filled-in and signed visa application form
Two recent colour photographs
Letter of invitation from an approved Hospital /Doctor in India
Medical documents establishing the need for taking medical treatment in India
Proof of availability of sufficient funds for stay in India including the expenses for medical treatment by producing documents such as Bank statement, Salary certificate, sponsorship letter etc.
A Medical/Medical Attendant visa is normally issued within 3 working days, inclusive of the day on which application is made.
Visa Invitation Letter
When you are applying for a medical visa, a visa invitation letter is required. A visa invitation letter is a formal document that is sent to the patient from the Indian hospital that sanctions his/her medical treatment in that hospital in India.
This also serves the purpose of a proof that the patient has indeed contacted with Indian hospital and will be having his or her treatment there. The visa invitation letter consists of the patient details, details of his/her ailment, treatment procedure and duration of the treatment involved. Hence it is an important and mandatory document required during the application and for the sanction of a medical visa to the patient.
Embassy Information
Commercial Section/Commercial Representative
Mr. Anil Kumar
Second Secretary (Commerce, Consular & Political)
Telephone No: +265 1751043, +265 1750014
Mobile No : +265 994 965 965, +265 994 963963
E-mail :
com.malawi@mea.gov.in
Physical Address
Plot No. 55
Area 9
Lilongwe
Postal Address
P.O Box 1482
Lilongwe
Malawi
Reception
Tele: +265-(0) 1-759 337
Fax: +265-(0) 1-755 346
E-mail : receptionist@hcililongwe.in
Administration
Tele: +265-(0) 1-751 041/1751-043
Fax: +265-(0) 1-755 346
E-mail : adm.malawi@mea.gov.in
Consular section
Tele:+265-(0) 1-755 337
Fax: +265-(0) 1-755 346
E-mail : cons.malawi@mea.gov.in
Vaccination
Do I Need A Yellow Fever Vaccine for India?
If you are coming to India from a country where yellow fever is present you are required to show proof of immunization. The patients travelling from Malawi to India for getting their medical treatment should enclose a valid Yellow Fever Vaccination Certificate that becomes valid only 10 days after the inoculation.
Flight & Travel from Malawi to India
You can book the flight tickets for travel from Malawi (Lilongwe) to India (New Delhi) through various flights. Air India Flight is India's first international airline providing luxurious air services to the international passengers at economical costs and discounted fares. It offers efficient service and good value for money.
The following are few flight travel details from Malawi to India
Lilongwe, Malawi (LLW) to New Delhi, India (DEL)
Blantyre, MI (BLZ) to Mumbai, IN (BOM)
Lilongwe, MI (LLW) to Chennai, IN (MAA)
Blantyre, MI (BLZ) to Bangalore, IN (BLR)
Common Flights to Malawi to India








At any Given Point to Send Us a Medical Query : click here
Phone Numbers Reach Us-
India & International : +91-9373055368
Listen to the Voices of Our Happy Patients
Other Common Procedure for Which Malawi Patients Come to India are
Neuro Surgery India
Stem Cell Treatment India
Infertility Treatment India
Bone Marrow Transplant India

Kidney Transplant India
Liver Transplant India
Hydrocephalus Treatment India
Dental Treatment India
Orthopedic Surgery India
Cosmetic Surgery India

Plastic Surgery India
Deep Brain Stimulation Surgery India
Robotic Surgery India
Heart Transplant India
Eye Surgery India
Lung Transplant India
Services For Other Countries