What is Laparoscopic Gallbladder Surgery?
Laparoscopic Cholecystectomy or Laparoscopic Gallbladder Surgery, Gallbladder Removal surgery is one of the very frequently performed surgeries. This surgery is considered extremely safe being a minimally invasive approach, it comes with a lot of advantages such as tiny incisions, very less blood loss and post-surgical trauma, rapid recovery and many others.
Like other surgeries, there are some evaluation tests done prior to this surgery as well. Some of the patients, who are not considered apt for this surgery, include:
Those who are not able to tolerate general anaesthesia
Obstructive disorder of the Lung
Uncontrolled coagulopathy
Congestive Heart Failure
Malignant Gallbladder Carcinoma
Gangrene of Gallbladder
End-stage Liver Cirrhosis
Pregnancy with serious complications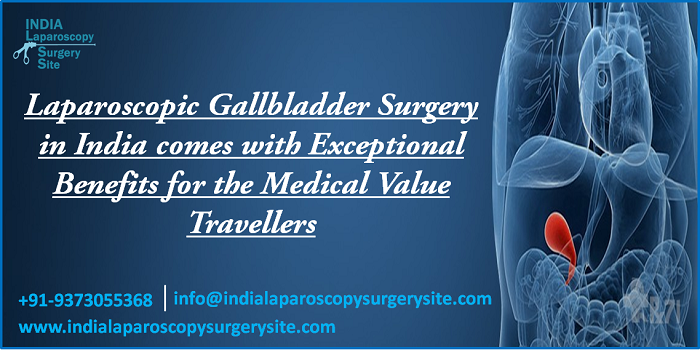 Once the pre-surgery evaluation tests have been done and this procedure has been finalized, the patient is taken to the OT. The patient is anaesthetized, and a cut about half an inch is made close to the navel area. Then, another three cuts about quarter to half inch are made near the first cut. After this, Laparoscopic ports are passed through these cuts and then through these ports, a Laparoscope and other surgical tools are passed. A Laparoscope has a camera attached to it, with which the surgeon gets an enhanced view of the abdominal organs. The other three incisions are used to pass the other surgical tools, which help the surgeon to dissect and detach the Gallbladder from the Liver and the bile ducts. One of the ports helps in the removal of the Gallbladder from the patient's abdomen. Once the Gallbladder is removed, the cuts are closed.
 Why Gallbladder Surgery is Performed?
A Gallbladder Surgery is mostly recommended to patients, who are diagnosed with the following:
Choledocholithiasis – in this the Gall Stones go into the Bile Duct and cause an obstruction
Cholecystitis – inflammation of the Gallbladder
Pancreatitis – inflammation of the Pancreas
Biliary Dyskinesis – in this the Gallbladder doesn't fill or empty properly
Asymptomatic Gallstones
Symptomatic Gallstones
Gallstone Pancreatitis
Biliary Colic
Acute Cholecystitis
Choledocholithiasis
Mirizzi syndrome and
Benign Gallbladder Tumours
 Recovery Time After Surgery
Even if it is a new form of surgical procedure such as Laparoscopic Gallbladder Surgery, in India it is very safe, and rate of complications is as low as two percent. Thus, the patients can avail Laparoscopic Gallbladder Surgery in India, without any apprehensions. Post this procedure, there are hardly any cases when patients have faced any risks. Further, the surgeons ensure that the patients have a very smooth recovery. But usually, the patients can go home once they are able to eat, drink without pain and are able to walk without any help or support. It generally takes a week for this.
 What to expect after surgery?
The results are outstanding after this surgery as it relieves the patient from the severe pain and uneasiness. After this surgery, the patient is taken to a recovery area after the effect of anaesthesia goes away. The speed of recovery depends on the approach of this surgery. So, if it is Laparoscopic Cholecystectomy, then the patient may go home the same day of the surgery; however, a one one-night stay might be needed sometimes. In order the help with the post-surgical pain, the patients are given suitable medications.
 Benefits of Laparoscopic Gallbladder Surgery in India
Most updated hospitals with cutting edge treatment and surgical opportunities
Highly experienced and expert Laparoscopic Surgeons in India
Laparoscopic surgeries give excellent opportunities to people to get cured of very difficult ailments with many benefits. However, these surgeries can cut a big hole in the pocket. But Laparoscopic Gallbladder Surgery in India is very reasonably priced
International patients are given timely attention and utmost care
Presence of a very professional medical tour planner called India Laparoscopy Surgery Site, which have been in this field for several years, serving international patients wholeheartedly.
If you are also looking for Laparoscopic Gallbladder Surgery in India then contact us and get complete information for planning surgery in India from India Laparoscopy Surgery Consultants.
Send Your Inquiry To info@indialaparoscopysurgerysite.com Or Call Us On +91-9373055368