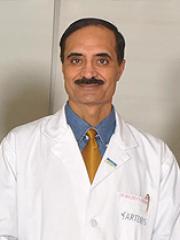 Dr. Baldev Singh Sekhon
Speciality:
Cardiothoracic Surgery, Cardiothoracic Surgery
Languages spoken:
English, Hindi
Board Certified in:
American Board of Surgery and the American Board of Thoracic Surgery
Primary Place of Work:
Artemis Health Institute
PROFILE
Qualification
MBBS, Dayanand Medical College & Hospital, Punjab.
General surgery residency, Fairview Hospital, Cleveland, Ohio, USA.
Fellowships CTVS, St. Vincent Charity Hospital, Cleveland, Ohio. Medical College, Georgia, USA.
Brief Profile
Dr. Sekhon is an eminent cardiothoracic surgeon who has a vast experience in all the complex cardio vascular and thoracic procedures. He has been working as the medical director of cardiothoracic surgery at St. John West Shore Hospital, Cleveland, Ohio before moving to Artemis.
MEMBERSHIP
Membership
Member of Cardiovascular Committee

Fellow Member of American College of Surgeons

Member of Society of thoracic Surgeons

Member of Academy of Medicine of Cleveland and Northern Ohio
HONORS AND AWARDS
Clinical Focus
Dr. Sekhon's area of clinical interest lies in Surgical treatment of adult acquired heart disease, arterial revascularization, complex reoperations, value replacement and repair surgery, laser surgery (TMR), Arrythmia Surgery (MAZE procedure) and minimally invasive lung surgery.
Procedures
Wall replacement and repair surgery

Surgical treatment of adult acquired heart disease, Arterial Revascularization

Minimally Invasive off - pump coronary by pass surgery (Beating Heart)

Surgery related to Cancer lungs and oesophagus